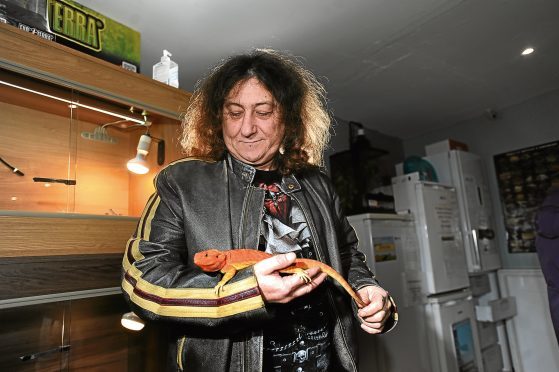 The owner of a Dundee reptile store has told of the moment he "died" in his shop — before being brought back to life.
Marc Garty, 51, who runs Just Right For Reptiles in Albert Street, Stobswell, recalled the "surreal" moment paramedics frantically tried to restart his heart after he suffered a cardiac arrest.
Marc — who underwent a triple heart bypass in 2010 — said he had been complaining about chest pains before going to the store on his day off.
Speaking to the Tele, he said: "I had been sitting in my flat and started to get a pain across my chest.
"Initially I tried to lie down and take my angina spray but the pain didn't go away.
"I decided to go down to the shop and asked my wife June to phone an ambulance."
Paramedics rushed to the store and performed an electrocardiogram (ECG) on Marc just before he went into cardiac arrest.
However, they couldn't detect if he was having a heart attack.
June, 61, said the first paramedic crew arrived within minutes.
She added: "They did an ECG on Marc. He was sitting upright and was given an aspirin.
"It lessened the pain but not as much as they had hoped.
"He then had a seizure and they immediately put him on to the floor."
The paramedics started giving Marc chest compressions and used a defibrillator to shock his heart.
Marc said: "From what I've been told, I shot up after the second jolt."
He added: "We were looking at ways to celebrate our fifth year in business next month and I suppose nothing can beat coming back from the dead.
"I've been extremely lucky — if I hadn't gone into the shop I would probably be dead.
"I can't thank the emergency services enough for the work they did.
"I was admitted to Ward 21 at Ninewells and was able to leave two days later.
"Initially, when people saw the two ambulances and the police outside the shop, rumours started to circulate that I had been bitten by a poisonous snake, which we don't actually sell.
"I can't help but laugh thinking about that.
"Going back into the shop — the place where I died — was surreal.
"I'll be back at work this week."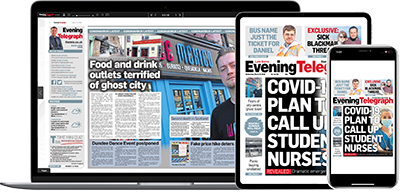 Help support quality local journalism … become a digital subscriber to the Evening Telegraph
Subscribe