Pubgoers in Dundee were left stunned when the world's No 1 golfer walked in for a meal.
Ahead of the first day of The Open, Dustin Johnson stopped by for meals in Broughty Ferry over two consecutive nights.
The American, understood to be staying in a home in Carnoustie for the week, first went for a curry in Goa before heading to Borgotaro at The Fort on Tuesday evening.
Johnson, who was part of a group of four, was unable to get a table in the fully-booked Italian but staff could cater for his party in the lounge.
The Fort manager John Black told the Tele: "He was in Goa the night before and said he fancied an Italian, so the manager there recommended us."
"It was a last-minute call we got and Borgotaro was full but we had them in the lounge with the Italian menu.
"He was happy to have his picture taken with our regulars and bar staff."
John said the golfing superstar enjoyed his time in the eatery – and was on soft drinks – and enquired about getting another table at the restaurant.
He added: "Afterwards his party approached us to book another table for last night – but they never made it.
"We're hopeful they will come back before they head off."
John said the Ferry has been abuzz with golf-fever with many fans and celebs alike coming to the area with representatives from luxury watch brand Rolex even staying in his hotel for the duration of the tournament.
He said: "We've had guys from Sky Sports and CNN come in. I've heard Rory McIlroy was also going about the Ferry too.
"The whole place is really busy this week – and I'd like to thank my staff for the shift they've put in.
"The whole city is reaping the benefits – there's a good vibe about the place.
"I think it's the outdoor cafe experience that's so appealing to people. The weather has – until now – been great and really helped to bring people in."
The Tele's Blether with Brown columnist John Brown was in the pub at the time.
He said: "It was surreal for a multimillionaire golfer to be in the pub.
"He was really amiable with people and was happy to pose for selfies."
Dustin Johnson is currently seven-over-par in the tournament after his second round at Carnoustie.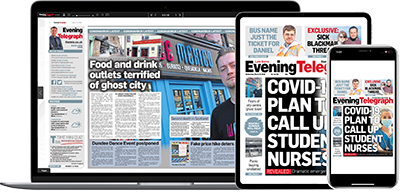 Help support quality local journalism … become a digital subscriber to the Evening Telegraph
For as little as £5.99 a month you can access all of our content, including Premium articles.
Subscribe