A pub is doing its bit to make sure people don't go hungry on Christmas Day – by serving up hundreds of meals for vulnerable people.
Staff at the Ambassador Bar and Grill on Clepington Road are offering meals to 150 people who find themselves homeless or lonely on the big day.
The meals will be served between 1pm and 4pm.
Everyone who comes along will also receive a gift and be given the chance to win a raffle prize.
Bar manger Kate Fraser said staff at the pub had decided to stage the huge feast to make sure no one spends the special day alone.
She said: "This will be the first time we have done this. We are hopeful that it's going to be a great success.
"We decided to do something for all those people who will spend Christmas Day alone or who may have nowhere to go.
"There are so many people in this situation in Dundee that we just felt we wanted to do something to help."
Kate said that preparations have already begun – with staff volunteering to work on the day and others donating gifts and raffle prizes.
She said: "Anyone who wants to can come in and get their Christmas dinner.
"It won't cost them anything and they will be able to join in all the Christmas fun – all they have to do is turn up.
"We will be giving everyone a three-course dinner.
"There will be turkey with all the trimmings and steak pie on offer.
"All the staff will be dressed up and we plan to have a good time.
"We are planning a day of continuous fun and are looking for as many donations as possible to make this possible.
"We are also raising money through a JustGiving page and we are asking people to be generous.
"I just hate the thought of anyone being hungry, homeless and lonely on Christmas Day so we came up with this idea.
"Homeless people are welcome as are the elderly who may find themselves alone on this special day.
"We're aware of so many people who would be spending Christmas Day alone otherwise and will welcome everyone and anyone who turns up – be they people who live on the street or people who, for whatever reason, just find themselves alone.
"Christmas should be a special day and we just want to share with those that are less fortunate."
Kate said the fun on the day will also include Christmas movies, which will be shown on a big screen.
There will be music and a chance to take part in karaoke.
Kate said: "I'm sure the local community will rally round to make this a huge success."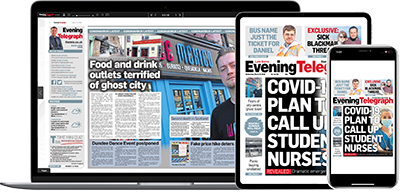 Help support quality local journalism … become a digital subscriber to the Evening Telegraph
Subscribe