Dundee shoppers looked on in disbelief as a busy city centre store flooded during heavy rain.
Customers in the Overgate's Primark store were asked to move to a different part of the shop when water began coming in next to the escalator as well as the main entrance on the bottom floor of the shopping centre.
Kim Keillor, from Dundee, said she "had never seen anything like it".
Kim, 26, a hairdresser in Monifieth, said: "Everybody was standing at the outside entrance looking at the rain bucketing down.
"I was speaking to somebody I know when we noticed there was water on the floor.
"Staff quickly moved what they could and cordoned off the area and people were asked to move.
"Then as I was walking around looking at clothes, somebody else was telling a member of staff there was water coming in from elsewhere.
"I've no idea how it was coming in — I've never seen anything like it.
"It was coming out from beside the escalator as well as at the left hand side of the main entrance.
"Part of the shop was cordoned off and last I saw they were using cardboard boxes to try and get the water out of the front door."
A Primark spokeswoman said: "Due to recent heavy rainfall, our Dundee store has experienced some minor flooding.
"The store continues to trade as normal whilst work is carried out in the affected area to clear the water and prevent any further flooding.
"We apologise for any inconvenience which may be caused whilst the issue is being resolved."
A worker at the store declined to comment on the flooding — which happened around 4pm on Saturday — when approached by the Tele but confirmed the store was open as usual on Monday.
Meanwhile, a nearby council car park was also affected by the downpour when a parking machine malfunctioned because of the rain.
One motorist said she was trapped in the Greenmarket car park for around an hour when the automatic barriers failed to let her out.
The woman said only people with season tickets were affected and the barrier was opening for day tickets.
Eventually, a staff member from Dundee City Council attended and opened the barrier up for the four motorists who were trapped.
A council spokeswoman said: "We are aware of the situation and are taking the appropriate action."
The Met Office said the wet weather was set to continue through into the early hours of Wednesday morning.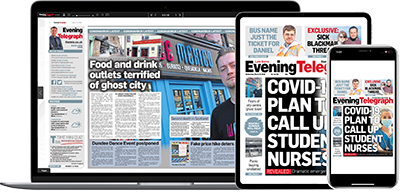 Help support quality local journalism … become a digital subscriber to the Evening Telegraph
For as little as £5.99 a month you can access all of our content, including Premium articles.
Subscribe