A police campaign aimed at helping people who feel unsafe on a night out will be launched in Dundee next week.
The Ask For Angela initiative is to be rolled out across the city next Monday, including in areas such as Broughty Ferry, ahead of the Christmas party season.
The code-phrase campaign allows women and men who feel uncomfortable or unsafe in the company of others to discreetly alert bar staff by asking for "Angela".
Once staff are aware there is a problem, they can follow a six-step guideline to help the person leave quietly, order a taxi and offer appropriate support.
Chief Inspector Nicola Russell told members of the council's community safety and public protection committee last night: "The idea is that people who meet up for drinks with people they have met through dating sites and find themselves in an uncomfortable position or concerned for their safety can go to the staff and ask for Angela."
This will result in the staff understanding they need help and support and they will get them out of their current situation.
"We want people to know there is a way to ask for help if they feel unsafe. This campaign will ensure that people know they have a way of asking for help."
Chf Insp Russell made the announcement while also reassuring the committee that police in Dundee were doing everything possible to combat the drop in rape detection rates in the city.
Members of the committee heard that in the last quarter, detection rates for rape had dropped from 67.2% to 45.5%, compared to the same period last year.
She said: "This could be due to the inquiry time it takes to progress these matters.
"However, we want to reassure the public that we are working hard to address the drop in rape detection rates."
Chf Insp Russell also said that latest police stats showed that kerb-crawling and prostitution detection rates had also increased in Dundee in recent months.
And there was good news for sex workers group Vice Versa, which has been saved from imminent closure after receiving funding from the Alcohol and Drug Partnership.
It means the group will be able to continue its work on sexual health, mental wellbeing and alcohol and substance misuse for a further 18 months.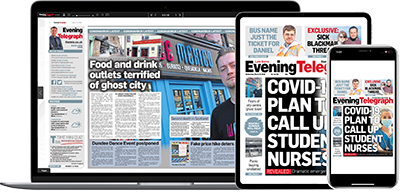 Help support quality local journalism … become a digital subscriber to the Evening Telegraph
Subscribe