A Dundee photographer who snapped everyone from the Queen Mother to Margaret Thatcher during a career spanning six decades has revealed the secrets of his most famous photos.
Alex Coupar, 86, from Coldside, left school in 1947 aged 15 with dreams of becoming a "snapper".
And during the former Morgan Academy pupil's time working for DC Thomson he often found himself looking through his lens at the great and the good.
One of his regular assignments was photographing royal visits, leading the Queen Mother to recognise him.
One moment which sticks out in his memory was being sent to Oban to photograph the Queen in 1956.
He said: "There was a huge gale and rain was coming down sideways.
"The royal yacht couldn't even land and the Queen had to step ashore on a pile of fish boxes. She was soaking and wearing a raincoat.
"I had to go to Skye afterwards and my suit was soaking wet, so I put my pyjamas on."
He can also recall photographing the Queen Mother standing above Loch Muick in the early 1950s.
Alex said: "I was sent to the location at the crack of dawn on a misty morning.
"She stopped halfway down the hill and I was kicked out of the Land Rover to ask what she wanted.
"She was admiring the view and we did a picture, with the mist around her.
"Forty years later, I got a call from the royal archives which wanted to use the pictures.
"I went to the shop next day and nearly every newspaper on the stand was carrying the photo."
Alex took pictures for the Evening Telegraph, The Courier and the People's Journal until 1967. And during his 20–year career with DC Thomson, he also met his wife, Margaret. The couple have been married for 62 years.
He then ran Spanphoto, his photography studio on South Tay Street, between 1967 and 1995.
Alex has seen the Dundee landscape shift and change throughout the decades.
He said: "I photographed the huge swimming pool at the Waterfront being built and demolished
"I also watched Margaret Thatcher open the Hilton at the Waterfront."
Spanphoto often worked for the city's Caledon shipyard and also a yard in Burntisland, Fife – both no longer in existence – and Alex is nostalgic about a time when shipbuilding was booming.
His own business received a "huge dent in turnover" in the 1990s when Dundee-based supermarket chain, William Low – another of his customers – was bought out by Tesco.
Alex said: "It was a big blow for Dundee when it shut."
He also remembers a time when famous faces would come to Dundee Repertory Theatre "in their droves".
He said: "I photographed every production at the Rep for 30 years at a time when many people would flock to Dundee to see them. I miss it."
After retiring in 2004, he donated his entire collection to Dundee University in the knowledge his work will inspire generations of photographers to come.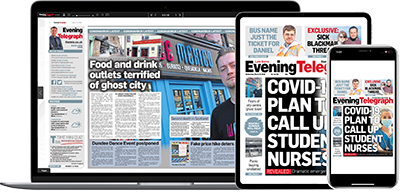 Help support quality local journalism … become a digital subscriber to the Evening Telegraph
For as little as £5.99 a month you can access all of our content, including Premium articles.
Subscribe