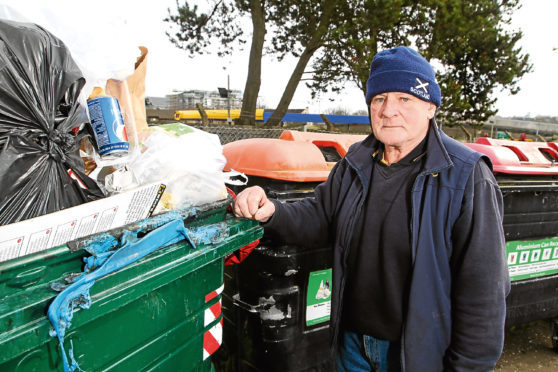 A petrol station worker fears there could be a "major incident" after firebugs torched Eurobins next to the premises.
Charlie Melville, 78, an employee at the Jet Garage on Forfar Road, has urged Dundee City Council to move the refuse containers on Hebrides Drive.
The forecourt worker said burnt paper and other smouldering fragments of rubbish had blown over the small fence from the overflowing bins.
And he said there were concerns there could be an explosion if the burning bits of paper came into contact with petrol vapours.
He said: "There have been a number of incidents with Eurobins in and around Mill o' Mains.
"There must have been four or five incidents over the last year.
"My biggest concern is that when the rubbish is piled up over the weekend that it will become an easy target.
"Given the close proximity to the petrol station, my fear is the wind will pick-up and blow more items over.
"All we would need is lit paper to come into contact with the petrol vapours and we could have an explosion. You can see there is only a small fence and items could easily go over.
"There are other toxic items also placed in the bins. The lid of the blue bin has been completely burnt off and people are stacking items as high as they can."
Charlie, who lives in Mill o' Mains, said the council was aware of the ongoing concerns regarding the location of the bins and fires in the area.
He added: "I know councillors have raised the issue before and Ron Neave has also voiced his concerns.
"There's wasteland further down Hebrides Drive or even further up where they could be stored.
"Dundee City Council seems to have problems on where it is going to locate them.
"There were discussions about the bins possibly being moved to the rear of the shops on Hebrides Drive.
"That hasn't happened, as I believe there were concerns they would become targets for firebugs.
"If a fire were to take hold at the petrol station, there would be no turning back."
A council spokeswoman said the issue was being looked into.
Scottish Fire and Rescue Service group manager Craig Thomson said: "The Scottish Fire and Rescue Service takes a zero tolerance approach towards anyone who deliberately sets fires.
"Those responsible for deliberately setting fires put firefighters at risk, but also risk crews becoming tied up and not being able to attend potentially time-sensitive emergencies."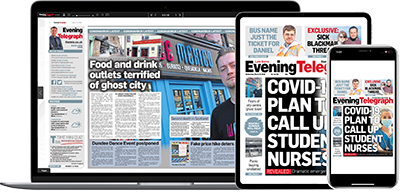 Help support quality local journalism … become a digital subscriber to the Evening Telegraph
Subscribe