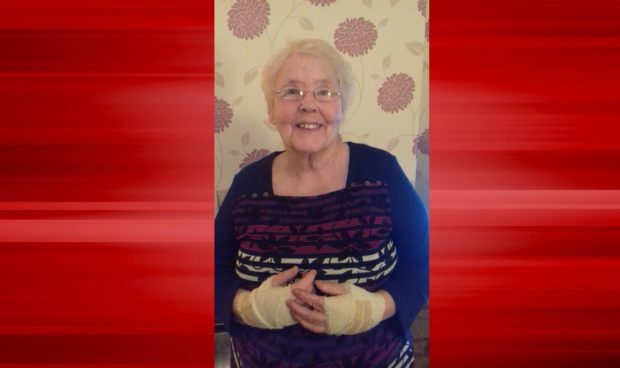 An elderly Dundee woman who fell on the way to the bus stop has thanked the mystery man who came to her aid and dressed her wounds.
Edith Fox, 73, who lives on Balerno Street, had been walking to the bus stop on Douglas Road just after midday on Wednesday when she tripped and feel on the pavement.
"I tried to get up but I couldn't because I couldn't use my hands," she said.
"I couldn't really get myself up because I felt dizzy and sick.
"Every time I tried to get up I was too dizzy.
"I was praying at the time 'please Lord get help' because there was no way I could use my hands."
She lay on the ground for two or three minutes, during which time she remembered a black car driving past, before a white van stopped and the driver came to her aid.
"He was going in the opposite direction, he could have just as easily passed me," she said.
"The man was wonderful, he checked for bleeding and everything like that.
"I didn't break anything but he was checking for that as well. He was concerned at the way one of my legs was lying, he thought I might have broken my leg."
After getting a first-aid kit from his van, the man dabbed the wounds on her hands to clear them of dirt before bandaging them up while the ambulance was on its way.
Edith said she was too dazed to take note of who the man was and said the ambulance staff told her later they thought he worked for BT, but she thought he must have had some experience in the medical field before because of how well he looked after her.
"He must have had medical training," Edith said.
"They were impressed with the work he had done."
Edith, who was born and grew up in Dundee, was taken to see a doctor before going to hospital where a doctor needed to use tweezers to clean the grit that had been embedded in her hand by the force of the fall.
Edith said she hadn't had a chance to thank the man, who would have had to change his clothes because they were soiled while he was caring for her.
"I couldn't have got a better person to help me than him," she said.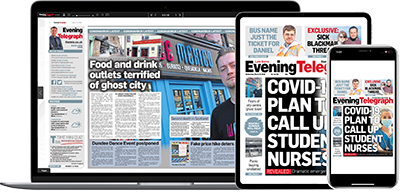 Help support quality local journalism … become a digital subscriber to the Evening Telegraph
Subscribe