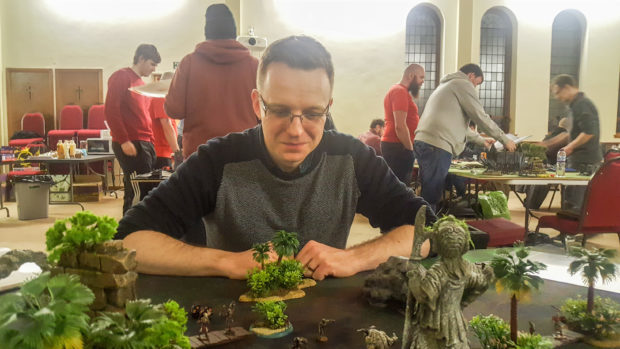 It was as a child that Craig Falconer first became interested in model wargames.
But it wasn't until his wife became pregnant about six years ago and he had some time to fill that the 36-year-old really got back into it.
In The Friary on Tullideph Road, Craig and a large group of other enthusiasts gather on a Wednesday night to face each other over tabletop miniature wargames including Warhammer 40K and Star Wars: X-Wing.
"I found a box of old mini's and thought 'oh I haven't played that in ages and it was loads of fun'," he said.
A workmate was going along to the Dundee Wargames Club at the time, and Craig decided to go along to see what it was like.
"Now I've got four or five game systems, a dozen or so boxes of minis, I build scenery and I just joined the club as an official this month so it's pretty good.
His wife was quite supportive of his hobby, the Cowgate resident said.
"She's an artist so we're quite lucky that we've got a studio in the spare room so she does all her art, she's actually started her own business, and I've got all my paints and everything in there," he said.
"I've got an allocated hobby budget and it's still cheaper than golf, just about.
"I'm a project manager for BT so I've got a pretty stressful job, so coming down here and rolling some dice is just a really good way to chill out and actually the building and making and painting scenery is a huge part of the hobby as well.
"That's a bit attraction of the hobby for me.
"I got back into it six years ago just as my wife was expecting, I had a lot of free time and just got back into toy soldiers but I first started playing when I was 12 or 13, going into the local store.
Craig said he had recently travelled with the club to compete at a tournament in Sterling.
"There's different tiers of play, you can just play casual play…or you can play tournament games where every point matters," he said.
There were always new games coming out, Craig said, and he had become a representative for GKR (Giant killer Robots) due to be released by Weta Workshops, the New Zealand-based company behind The Lord of the Rings and Avatar films.
"In June we're going to have our first UK tournament," Craig said.
His son Eliot was now 5, and was getting into wargaming himself.
"He's got his own models," Craig said.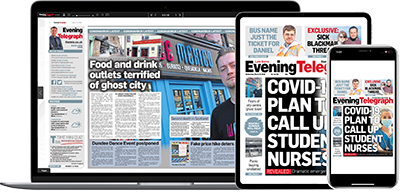 Help support quality local journalism … become a digital subscriber to the Evening Telegraph
Subscribe