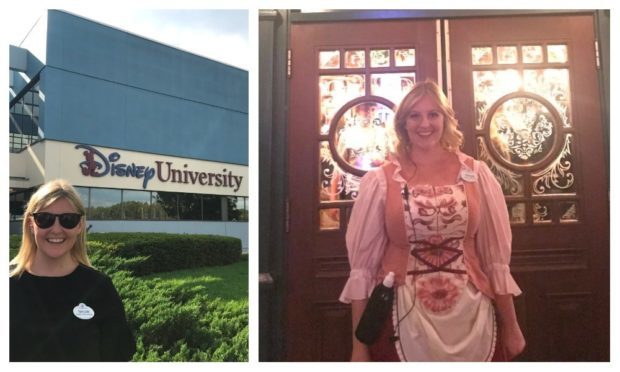 Bringing a little bit of magic into a child's day is just part of Taylor Petrie's normal work day.
The University of Dundee graduate, who recently become a published academic after her fourth-year Psychology dissertation was printed in a dermatology journal, has been working in the Epcot theme park at the Walt Disney World Resort in Florida.
With the help of her Psychology degree, she was able to gain a place on the Cultural Representative program.
"I'm part of the World Showcase within Epcot. They employ people from around the world to represent their country, and share their culture with guests."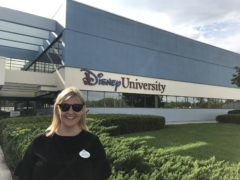 Taylor credits her success at Disney to her time at Dundee.
"My Psychology degree helps in so many ways," she said.
"The classes I took in developmental psychology help me to work out how I should deal with people of all ages.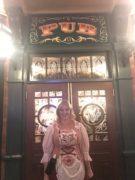 "You need to adapt the way you work and to pick out key phrases and stories for children at every stage of development.
"It makes you work hard to keep the magic alive."
Working in Walt Disney World was an experience like no other, she said.
"Everyday our sole purpose at work is to 'make magic' for our guests – which is not only empowering, but also fun!
"I get to talk with guests, share stories, and do what I can to go above and beyond.
"I live with girls from China, Italy, Mexico and France – so the learning, cultural knowledge and friendships I have gained from that alone is incredible. I have created such strong friendships with my colleagues here and I think that is due to the work/life balance we have.
"We spend our days working hard, and our time off in the Disney Parks, staying at Resorts, travelling to different states and exploring Orlando. I am well and truly immersed in the 'Disney Bubble', and I wouldn't have it any other way."
Taylor's article "Facial Treatment With Botulinum Toxin Improves Attractiveness Rated by Self and Others, and Psychological Wellbeing" was published in Dermatologic Surgery, the official publication of the American Society for Dermatologic Surgery.
The 23-year-old, who graduated in 2016, had been working on the reception desk at Fresh inc. Medispa in Invergowrie when she began to notice a pattern with the clients receiving botulinum toxin injections, also known as Botox.
"We would get a lot of repeat clients into the clinic," she said.
"So I got chatting with a few of them and found that every six months they were coming in for a 'pick me up'.
"That's when I decided I wanted to work out the reason behind seeking treatment and to find out if botulinum toxin injections were really making clients feel happier."
Taylor found that it was easy to find participants.
"We didn't need to advertise," she explained. "Fresh inc. Medispa has a fantastic reputation and builds great relationships with their clients, so regular and new clients were happy to help.
"The Clinical Director and Owner, Elaine, was eager to conduct the study to also discover the psychological effects of the treatment."
The participants were asked to complete a survey on how they were feeling before treatment.
They were then asked to complete the survey again four weeks later. Before and after photographs of the participants were also sent to an impartial group to study and rate their attractiveness.
Taylor discovered that the treatment significantly improved self-esteem and general life satisfaction. She also found that botulinum toxin injections also improve self-perceived attractiveness and attractiveness rated by others.
"I was ecstatic about the results. Not just for our study, but for Fresh inc. Medispa and its clients too. Botox, though it may seem, is not always used for vanity. It also helps people feel better about themselves and I hope this study sparks curiosity for future research, perhaps in relation to Botox and depression."
Taylor's dissertation advisor, Dr Fhionna Moore, said, "This study is a great example of how our students can contribute to their chosen area of Psychology, and how well collaborations between our researchers and our local community can work.
"It was brilliant to work with Taylor as I have an interest in the psychology behind facial attractiveness. I'm delighted that she is now a published academic."
Elaine Kenneth from Fresh inc. Medispa said, "It was great to be part of the study. Our whole team found it so interesting and it validates the additional positive benefits of anti-wrinkle treatment for our clients."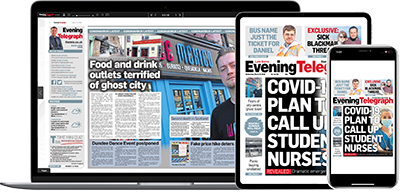 Help support quality local journalism … become a digital subscriber to the Evening Telegraph
Subscribe