This butchery is a cut above the rest with a passion for its craft and sourcing quality Scottish produce.
The Butcher The Baker was opened in December 2016 by Jonathan Clark, who is also part of the Clarks Bakery business, on Anfield Road in the city's West End.
The massive butchery features high quality meats, with the whole production process on display, and also an extensive range of wines, gins and beers which have been sourced from mostly all Scottish companies with the exception of a few beers.
Operations manager, Dan Bunce, has been at the business for the past year and prides his role in the "farmshop in the city".
He said: "There is nothing else like The Butcher The Baker in Dundee.
"Farm shops aren't accessible to everyone so we wanted to create an environment which is bringing that feeling to the city.
"Although we have that farm shop style and are doing everything a bit differently, we do not bump prices up. We offer very competitive prices for fantastic meat and other produce.
"All of our meat is from Aberdeen Angus cattle and we only use female heffers so we know we are providing incredible quality."
Butchery director, David Webster, has the trade in his blood and has followed in his father, grandfather and great grandfather's footsteps by becoming a butcher.
David said: "It has always been in my blood. I have worked in various roles such as accountancy through the years, but I was always meant to be a butcher.
"My great grandfather opened Webster's Butchers on Blackness Road in 1902 which continued to my grandfather and then my dad. When my dad was retiring I was about 17 and butchery was a dying trade so I didn't get into it straight away but I love the vision of The Butcher The Baker."
Butchery manager, Paul Higgins, also shares the same passion for only the best quality meats coming from The House of Bruar.
Dan added: "People are getting to know us more now and everyone who visits us loves knowing it is all Scottish.
"We as a business alongside Clarks Bakery will go through thick and thin to keep good family businesses in the area and we hope in the future the council will allow us to gain a full retail licence rather than just a trade counter so we can look at opening more premises in Dundee."
Open plan layout shows all production
The open plan layout of the butchery was by no mistake – customers can come in and view each part of the production process right in front of them.
The butchery aims to use this space to educate children and adults on where our food comes from.
Dan said: "We are actually in the tourist information for Dundee with the times public can come in and watch different parts of the production in the butchery.
"We have had groups of school children coming in to learn about where meat comes from too.
"Although we do have a lot of meat on show I have had vegan and vegetarian friends come into the shop and agree that the way we are set up at least allows everyone to see exactly what they are getting."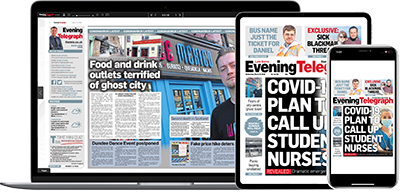 Help support quality local journalism … become a digital subscriber to the Evening Telegraph
For as little as £5.99 a month you can access all of our content, including Premium articles.
Subscribe