As a forensic pathologist and the head of a photographic society, David Sadler is not someone you'd expect to still identify with punk.
But when he's not in his lab or the lecture hall at the University of Dundee, the 53-year-old can be found out with his skateboard, wearing a punk T-shirt, shooting photos with his unconventional fish-eye lens or creating unorthodox self-portraits out of props given to him by friends.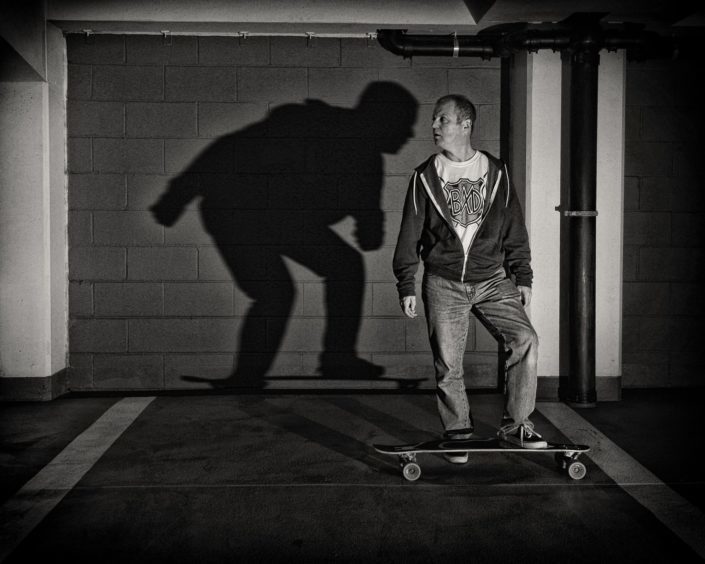 "If someone says you can't do that, it's against the established norms, I find myself questioning it." he said.
"For instance, if photo club judges advise against using coloured mounts, I'll use coloured mounts, and if they say don't use irregular shaped cutouts, I'll make irregular shaped cutouts; that's the punk in me.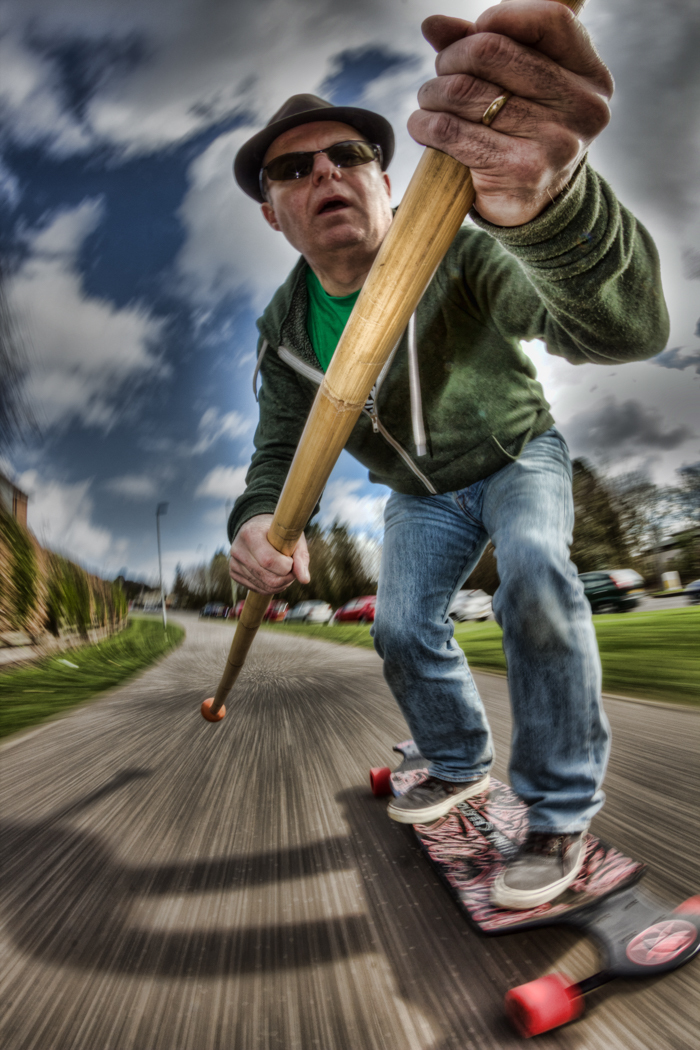 "When I was a teenager in the late 1970s I was into punk and skateboarding – they just went together. Now, in my 50s that ethos is still with me.
"If someone says 'you can't do that' I will ask 'why not?' and if I don't like the excuse, the reason, I'll want to do it all the more."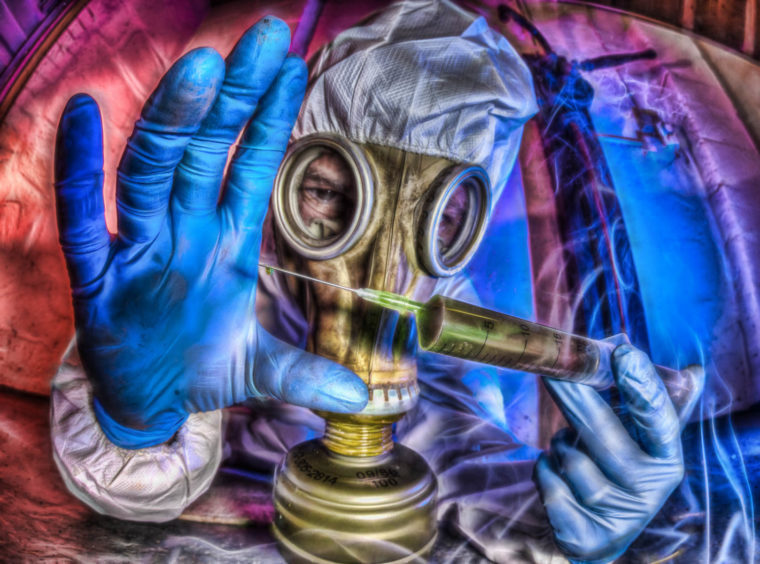 David grew up and went to medical school in Yorkshire and moved to Dundee in 1990 for his job.
"I didn't know anything about Dundee until the job was advertised, no ties to Scotland whatsoever," he said.
He was into photography through his years at University, but didn't take it seriously until on delayed honeymoon to California in 1990.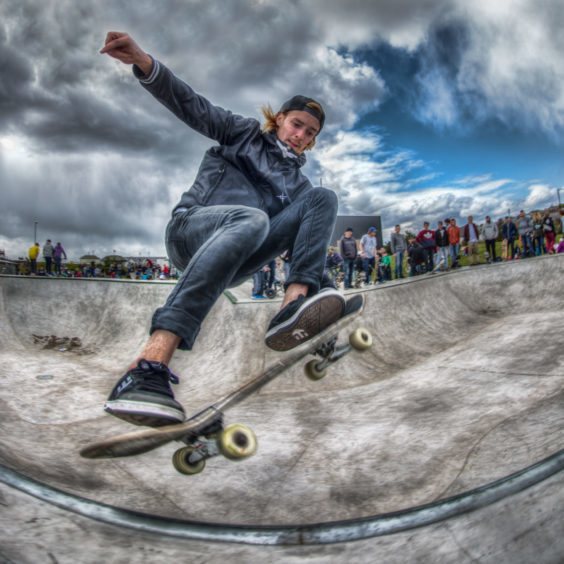 "I bought a decent camera to go on holiday to California, a canon SLR (single lens reflex).
"Then I jumped to digital about 2005.
"I was quite an early adopter of digital. I liked the idea of it because I couldn't be bothered with films and slides, I like the instant gratification of digital"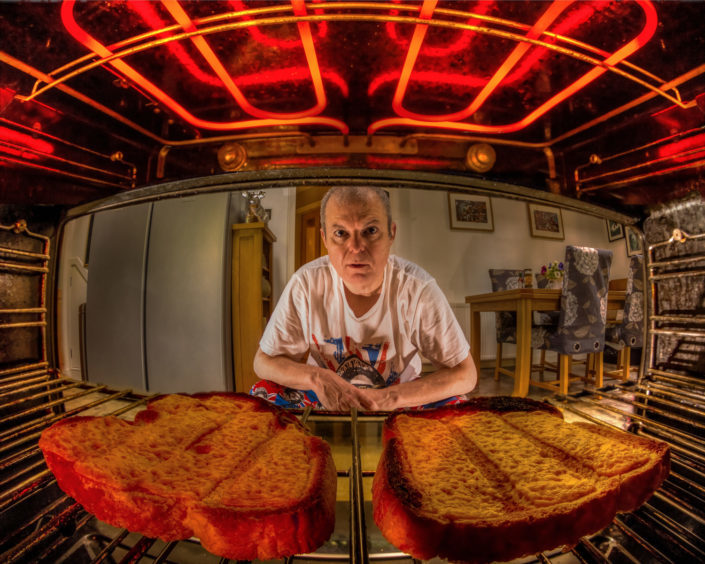 "I was never interested in darkroom and used to hate sending away films. I was so often disappointed with the results".
About five years later, in 2010, he joined Dundee Photographic Society (DPS) and it was that which lead to him going full circle to his punk days and taking up skateboarding and snowboarding again.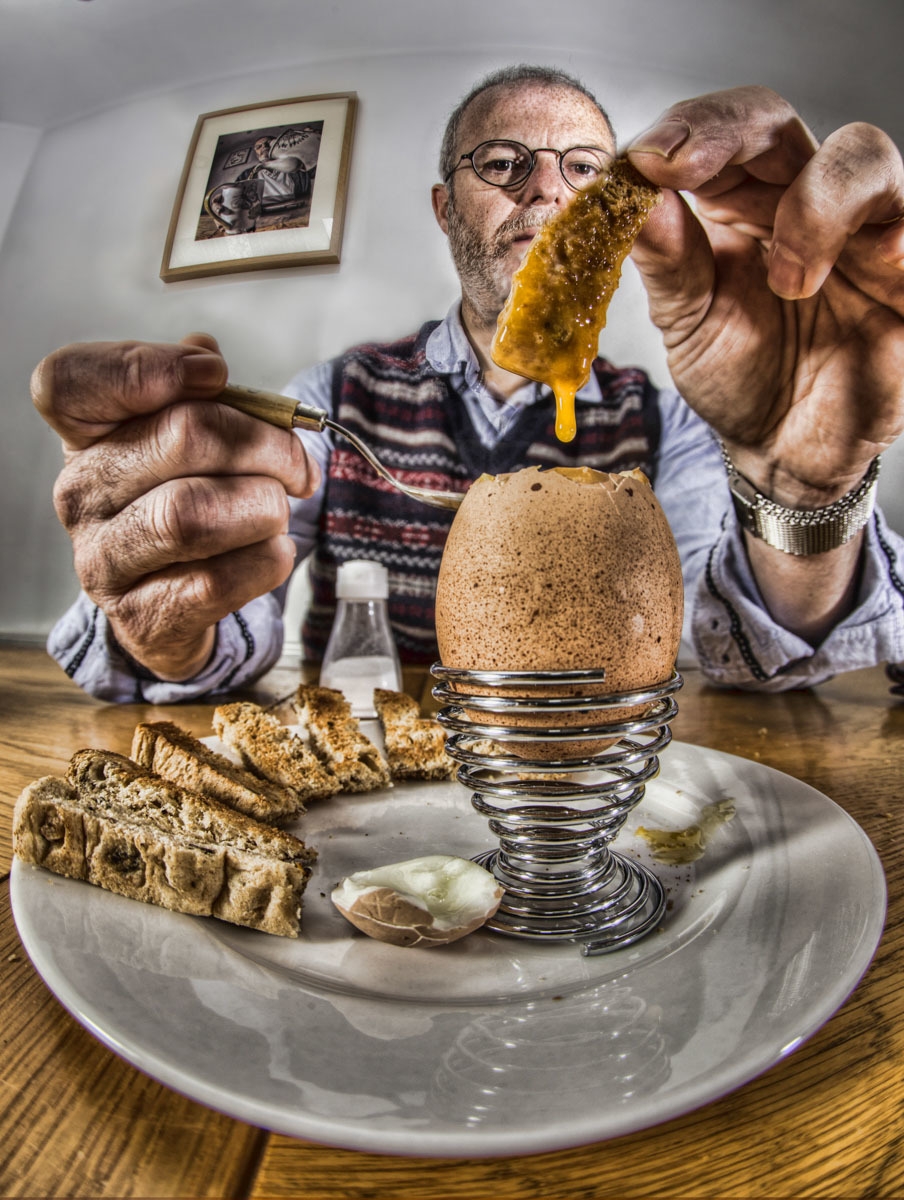 "One of the first things I did when I got really keen on photography, after I joined DPS, was to go to the Dudhope skate park. I found that as I was standing there my legs where flexing and bending in rhythm with the skaters going up and down on the transitions  – it's called "pumping" and it enables skateboarders to increase their height and speed up the ramps. The muscle memory was still there and I just couldn't stand still!" he said.
"And then I thought if I'm going to take photos of skateboarders I'm going to need a fish-eye lens because all the magazine photographers use one.
"But then I got carried away with the fish-eye and turned it on myself for the selfies."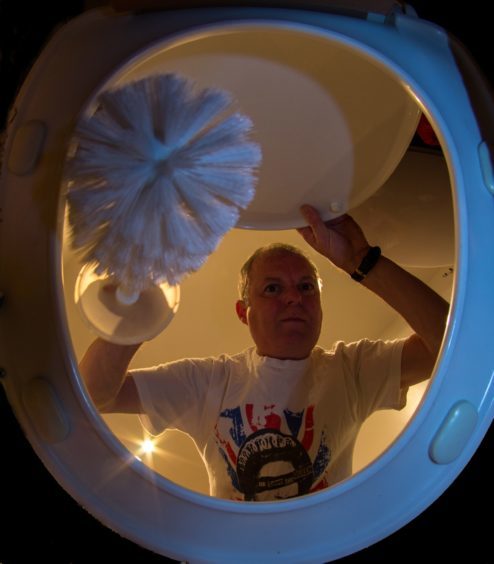 "I always wanted to try something different in my photographs. I never wanted to do landscapes, I never wanted to do portraits, I never wanted to do still-life. I wanted to create my own brand of dynamic, moving, fun pictures. My patient wife and family are now so de-sensitized that when I walk through the house with a toilet seat under my arm to set up a photo, no-one bats an eyelid!"
"It became my own thing – a wacky subject (often myself), a fish-eye lens and bold processing. I nearly always go over the top with the computer processing.
"It now spoils my attempts at landscape photography."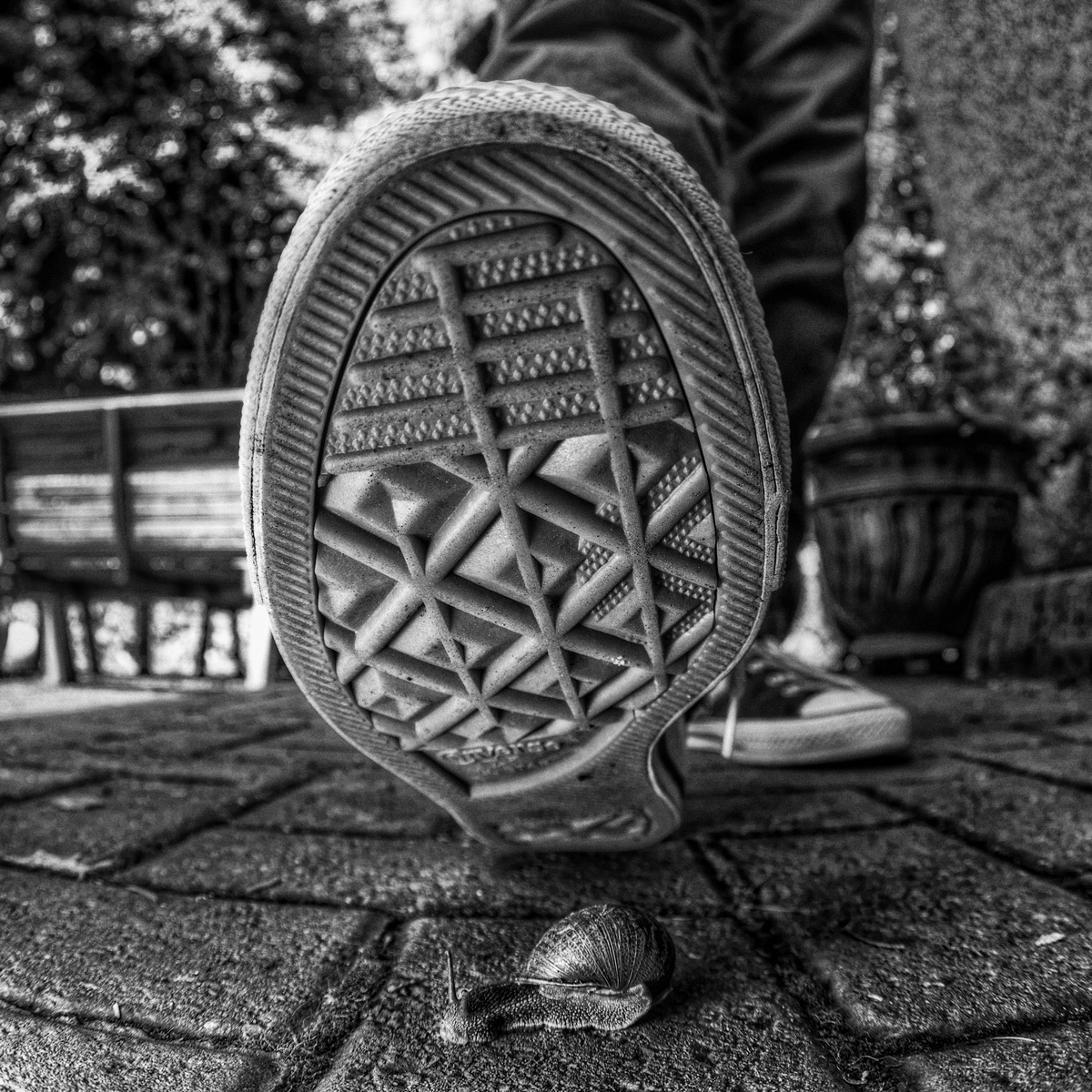 When he's not shooting photos, David is a forensic pathologist and senior lecturer at University of Dundee.
He has thoroughly enjoyed being a member of DPS for the last eight years and has served the last two year term as president.
"The friendship, instruction, inspiration, enthusiasm and support the club offers is just tremendous!"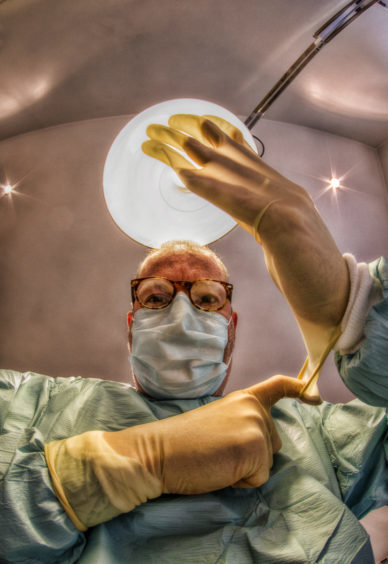 He said he often finds a way to inject punk into his work with the society, such as picking "Straight to Hell" by The Clash as the soundtrack for an audio-visual slideshow presentation about a recent trip to Vietnam. Other club AV's have been set to Ska tunes.
"I think I'm about one of about three people in the whole group who appreciate punk music because photography is a retirement hobby for so many. That said, we have been treated to a few younger faces recently and their work has gone down well within DPS. The Club certainly appreciate something different and is open minded to anything new."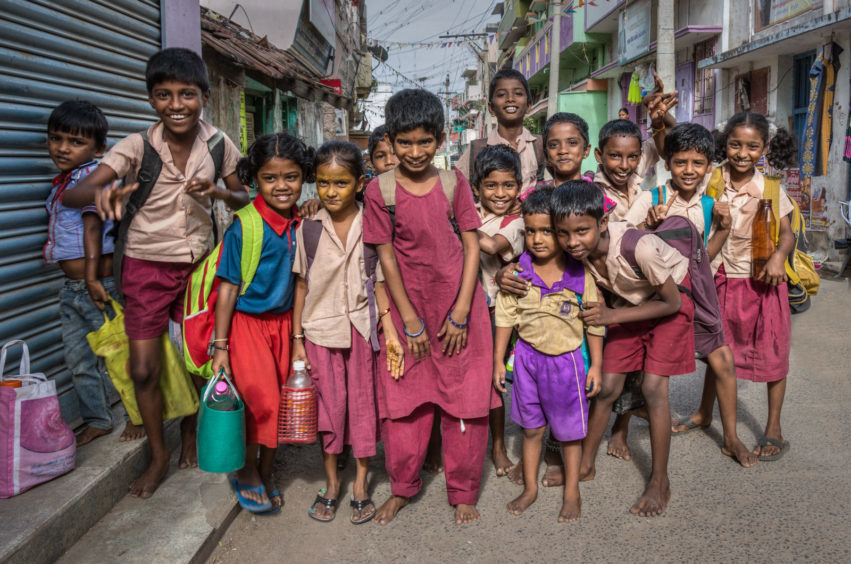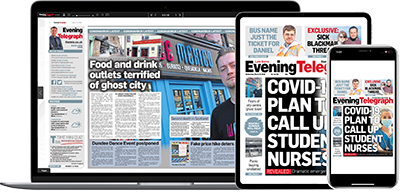 Help support quality local journalism … become a digital subscriber to the Evening Telegraph
Subscribe