A local theatre group has given thousands of local children the chance to sing, dance and enjoy the magic of musicals.
Now Dundee Junior Showtime – the first youth theatre of its kind in the city – is celebrating five decades of entertainment.
The company was founded by Margaret Mather, 80, in 1968.
Born in the Overgate and brought up in city orphanages, Margaret abandoned a career as a professional singer – which had taken her to the US, Russia and Europe – to bring up her children.
That gave her the opportunity to start Dundee Junior Showtime, which made its debut in 1968 with a concert at the YMCA.
As well as being a mum and organising classes for the showtime kids, Margaret also found time to hold down a job at Timex.
She said: "We were asked to put the show on at the Whitehall Theatre, which had not long been opened.
"We appeared in summer shows which I produced and directed with children from in and around Dundee.
"I couldn't afford written material such as plays or pantomimes, so I wrote and produced my own.
"The pantomimes were very popular with all ages – the Dundee social clubs brought their members and children by the bus load.
"At Christmas, we would buy and distribute toys to children's homes in Dundee. Word must have reached out about us because we then started to receive bookings to take the show to other towns in Scotland."
In the following years, the company went on to perform at the Edinburgh Festival.
Margaret said: "When we started, Lord Provost Tom Moore was in office. We were asked to go to the lord provost's ball in the Angus Hotel. The town and the council took us to their hearts and we were asked to perform at the ball for years to come."
Margaret, who in 2017 was made an MBE for services to the community, said the city rallied round to support the kids.
She said: "One thing the show has taught me is humility and patience.
"I'm grateful to have been given this chance to realise a dream I had."
Lord Provost Ian Borthwick said: "We recognise the contribution that Junior Showtime has made to the happiness of children – 50 years is a very long time and I'm sure it will be going for many years to come."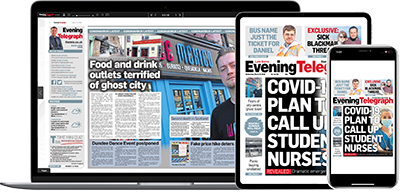 Help support quality local journalism … become a digital subscriber to the Evening Telegraph
Subscribe