A book featuring poignant letters from a Dundee soldier who died in conflict could be published later this year.
James Cairnie's correspondence with his family during the Second World War is the subject of the book, entitled A Dundee Sergeant in the Black Watch.
Frenchman Paul Malgrati, 25, a PHD Scottish history student at St Andrews University, was shown the letters by his girlfriend Julia Lyall. Julia's mother, Kathryn, is the late soldier's niece.
With the blessing of Kathryn and her three sisters, Paul completed the book last year, with plans now to possibly put it into commercial print.
Kathryn, 57, a lecturer in food and drink at Abertay University, said the publication was a fitting tribute to her late uncle, and would appeal to historians of the Second World War, as well as people with an interest in Dundee's past.
She said: "Paul pulled all the letters together for the book.
"He and Julia were visiting and I had this box of letters I'd inherited from my father, who was James's brother. The letters had sat for over 70 years before that.
"He looked through it and was fascinated by them and began writing the book about my uncle.
"He gave a copy to me and each of my sisters for Christmas last year."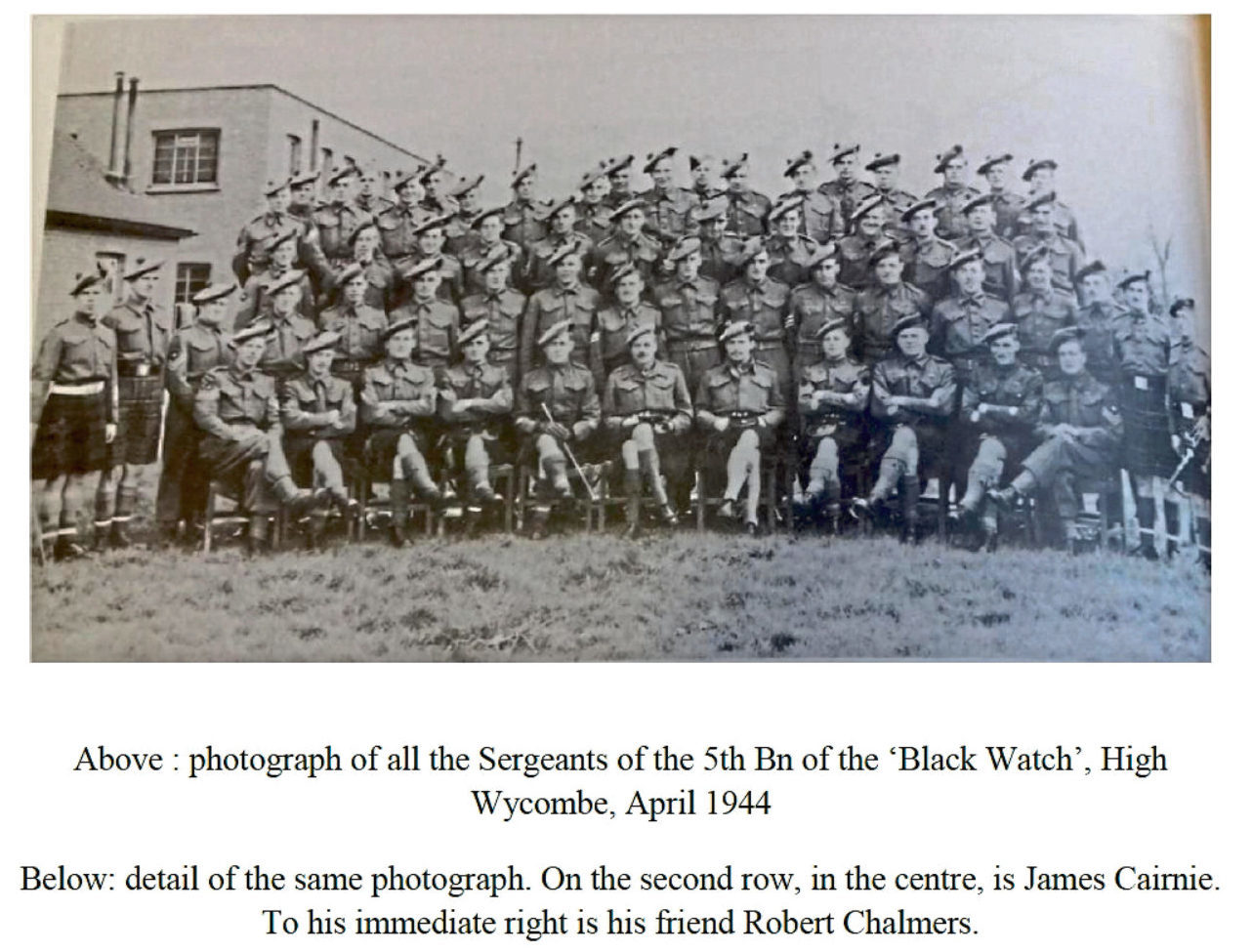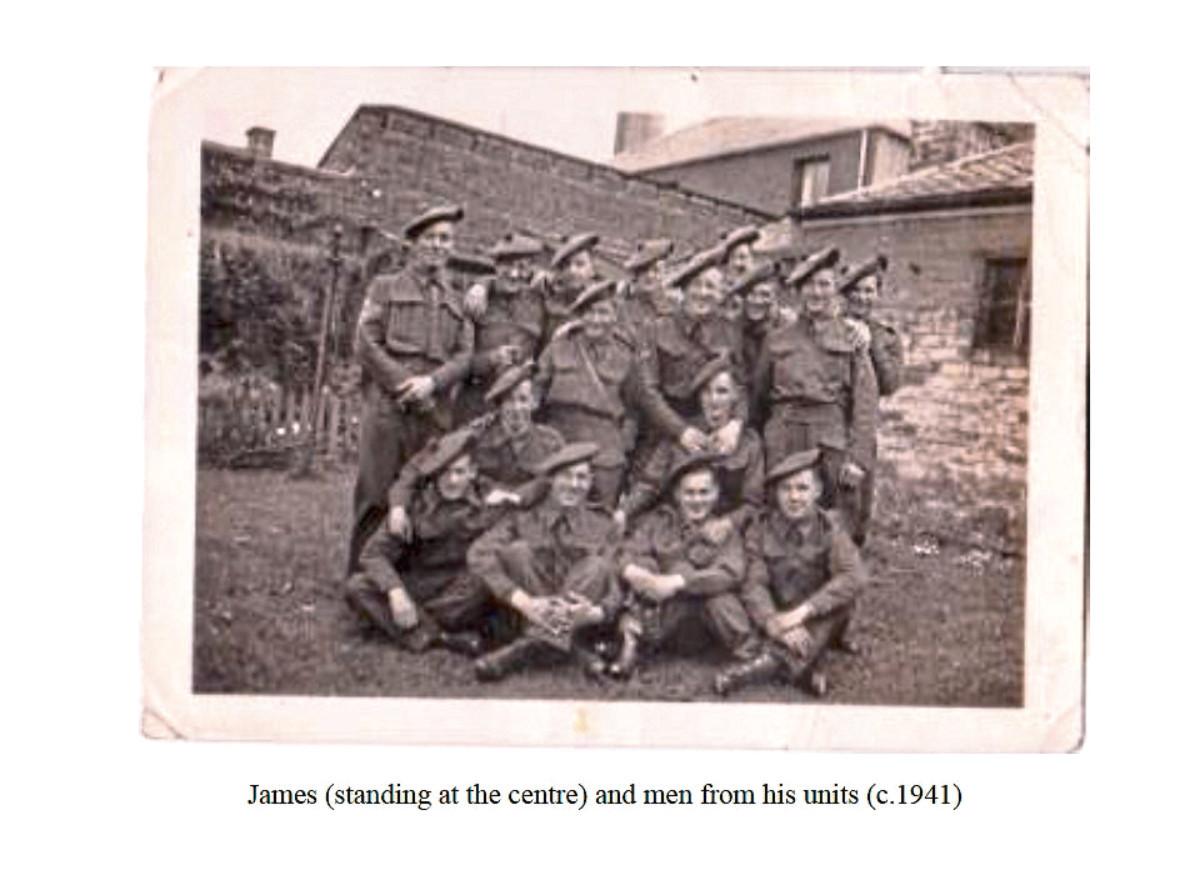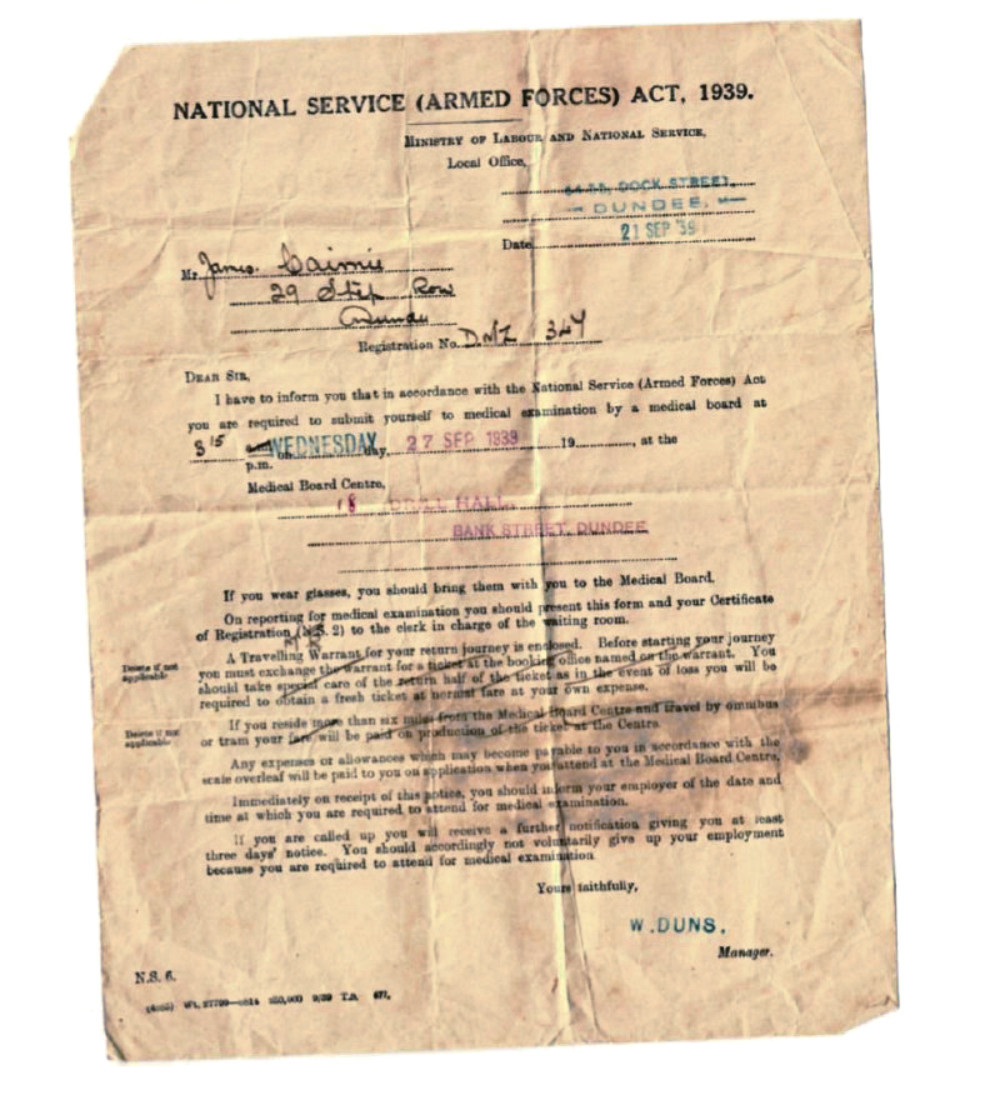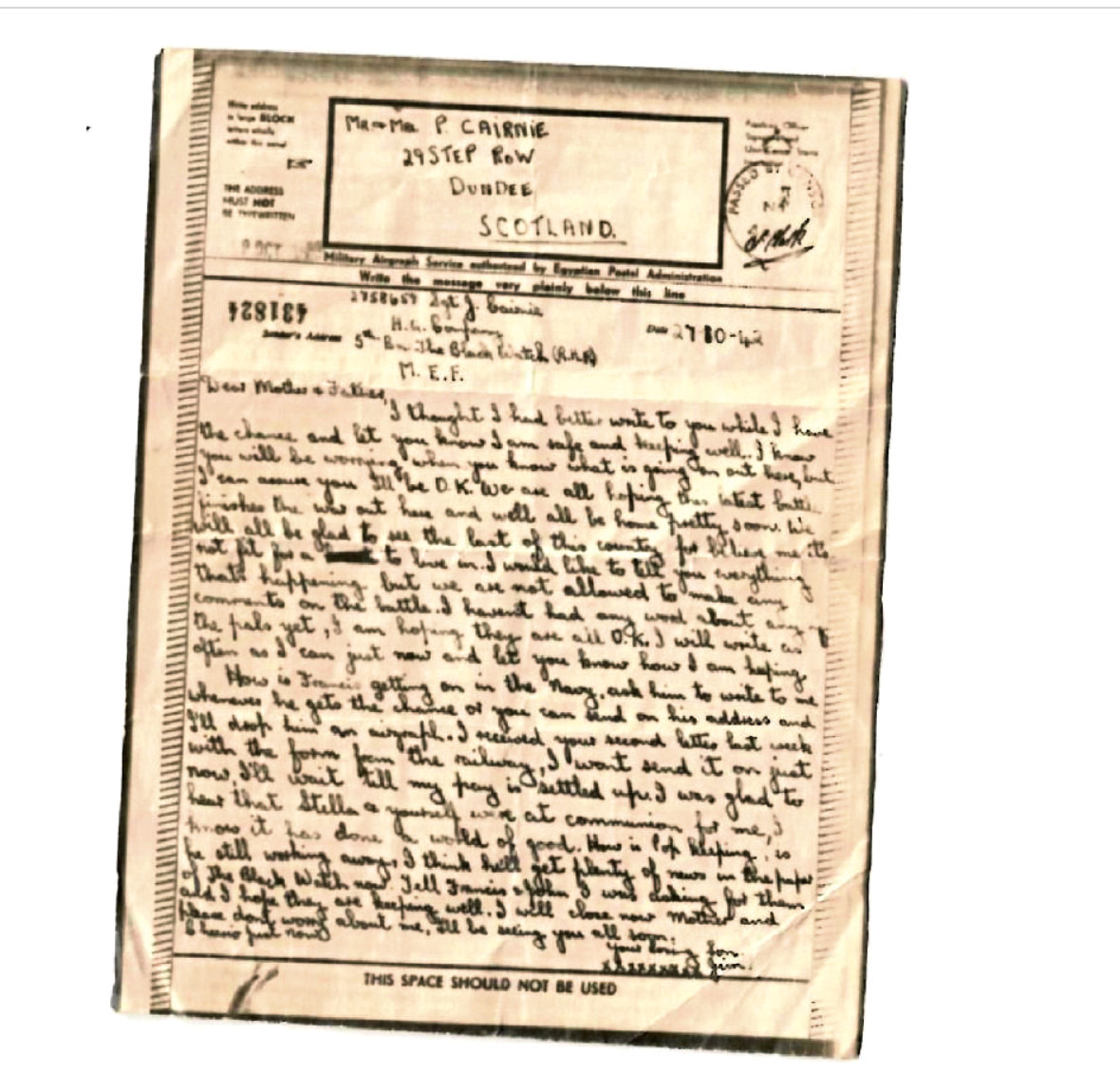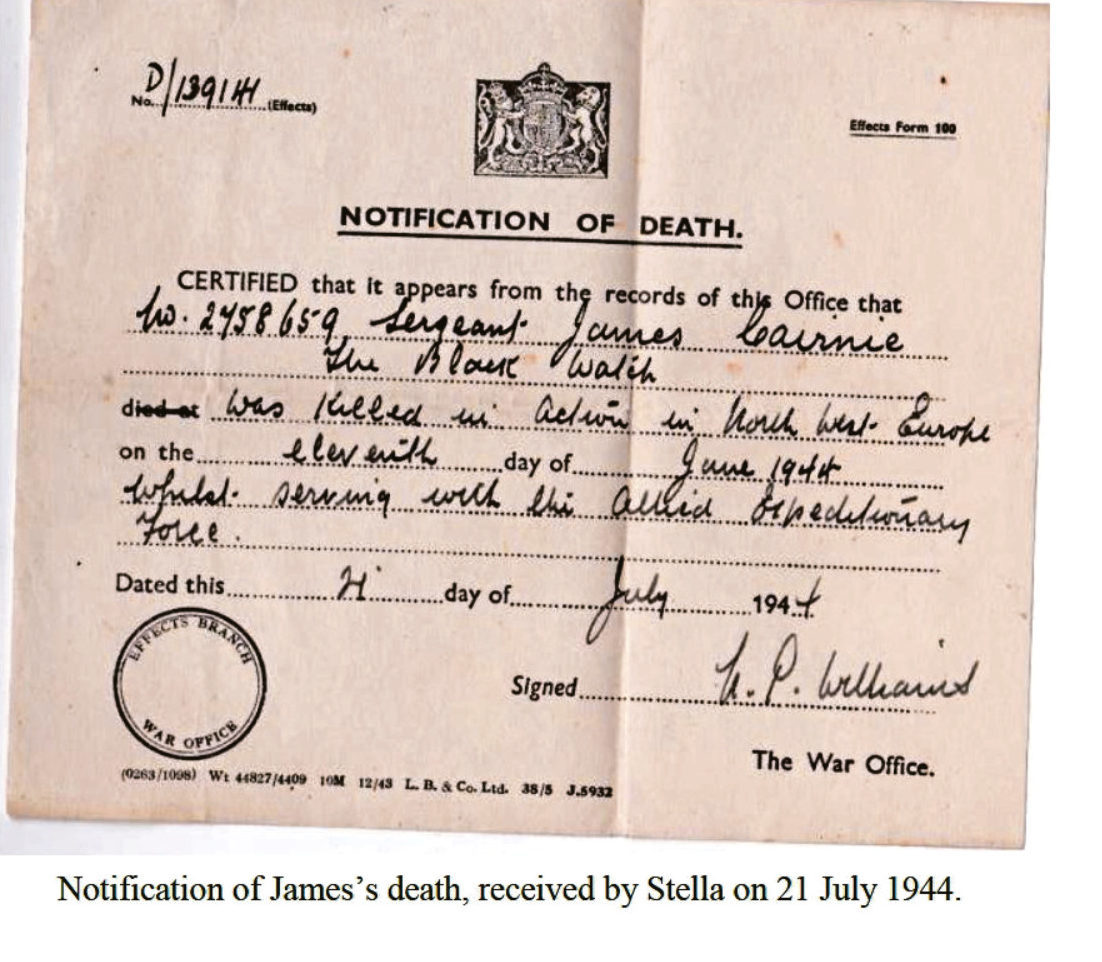 Born in the West End in April 1919, Mr Cairnie was conscripted to fight in September 1939, after the outbreak of war, enrolling in the 5th Battalion of the Royal Highland Regiment – the Black Watch – and appointed to the rank of sergeant in the spring of 1942.
In his first letter to his mother, he wrote: "I am that sore now, I am feeling like an old man and my cold is just as bad as ever. We are all being split up again and I am to be separated from my pals."
Correspondence halted between 1940 and 1942 when James was based near to Dundee.
During this time he married Stella Strachan – a Dundonian he had known before the war began.
In June 1942, James's division left Britain to pursue German and Italian troops throughout Egypt and Libya, and his letters recommenced.
The handwritten notes to his family during this time included an account of Winston Churchill visiting the soldiers in Cairo.
In a letter in September 1942 to his parents, James wrote: "The place we are right now is terrible, we are right out the desert, miles from anywhere. The food and the conditions are just as bad, we have roughed it before but this beats it all."
On June 3 1944, James embarked on the Invasion Fleet that was to land in Normandy.
The date of the invasion had been kept secret until the last minute.
This prevented James from notifying his family about his departure – in fact, they would not find out that their son was away until days later.
A few days after the landing, on June 11, his battalion was ordered to take the town of Bréville.
As they approached, the Scottish soldiers were mown down by heavy mortar and machine gun fire, with James dying in a field, next to his friend Robert Chalmers.
"A lot of the letters hadn't been read by the family because they were so heartfelt," said Kathryn.
"This makes them easier to digest, the way they have been put in context. The last letter in the collection is one from my grandmother to my uncle, which was returned. He had died but the family hadn't been made aware until after the letter had been sent."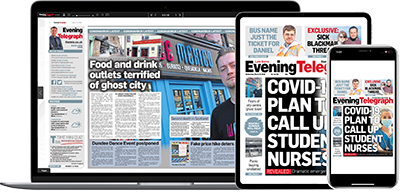 Help support quality local journalism … become a digital subscriber to the Evening Telegraph
Subscribe