A local young electrician is heading to Birmingham as one of the top eight apprentices in the UK.
Paul Anderson, 19, is currently in the fourth year of his apprenticeship with employer McGill and this weekend he will compete against seven others in the World Skill UK Competition.
Paul is currently at the NEC in Birmingham to compete against candidates from across Scotland, England, Ireland and Wales in a three-day competition where the apprentices are put though their paces to see who is the best in the UK.
The successful candidate could go on to compete in the next Euro Skills in Vienna in 2019 and then on to the World Skills Final in Shanghai in 2021.
As well as McGill, Paul has also been supported by the Scottish Electrical Charitable Training Trust (SECTT), Dundee and Angus College and the Electric Centre.
Paul said: "I have always wanted to be a sparky, ever since I was a wee boy.
"All of my family are in the trades so it was always going to be what I wanted to do as I got older.
"I came straight out of school and applied for the apprenticeship.
"I think to do well you have to show interest, show you want to learn and be keen."
He added: "I am a wee bit nervous about going to the competition.
"I always hoped I would get this far, but I didn't think I would.
"Through each of the stages it has got a bit tougher and a bit more advanced.
"I have to complete a full wall installation including containment, wiring, testing and distribution boards.
"The support has been amazing from my employer, Dundee and Angus College, SECTT and the Electric Centre who have provided me with all the tools I need for the competition."
Anne Galbraith, chief executive of SECTT, said: "Paul is superb, has a great attitude and has put in a huge effort.
"Whatever happens I really want Paul to enjoy the experience and he should be so proud of what he has achieved.
"SECTT puts a huge effort into training apprentices and we can't fault Paul's employer McGill. It is a fantastic employer.
"The training Paul has had from Dundee and Angus College has also been second to none.
"You can see the passion of the trade from each of the lecturers and staff.
"All at SECTT would like to say a massive good luck to Paul.
"We are so proud of him, no matter what happens this weekend."
Alongside Paul's sponsorship for the competition, the Electric Centre has also supplied all first-year apprentices at Dundee and Angus College with personal protection equipment.
Craig Bruce, assistant manager at the Electric Centre, said: "We are a fairly new company ourselves so this is the first year we are supporting our local apprentices.
"They are our future customers so we want them to do well."
Manager Mark Ramsay added: "It was a no-brainer to help support Paul and all of the first-year apprentices.
"This is our first year but we are looking to continue that relationship with the college and keep it going every year."
Dundee and Angus College has not only supported Paul with his four years of training but it has also created a training area at the reception of its Kingsway Campus which allows Paul and other students to practise their craft.
Course leader Chris Parker said: "The whole team at the college is immensely proud of Paul but we don't want to claim responsibility for him.
"It is down to the dedication and hard work from Paul himself that he has got this far.
"We all would like to say a massive good luck to him."
Juliet McGill, from McGill Electric, said: "We have never had an apprentice make it to this stage of the competition, so it is great to see our hard work with our apprentices paying off.
"It's also good seeing Paul and the rest of our guys out there doing great work for us.
"A lot of time and effort has gone into this so we are incredibly pleased for Paul," she added.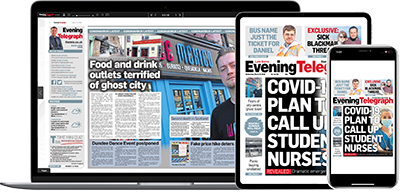 Help support quality local journalism … become a digital subscriber to the Evening Telegraph
For as little as £5.99 a month you can access all of our content, including Premium articles.
Subscribe