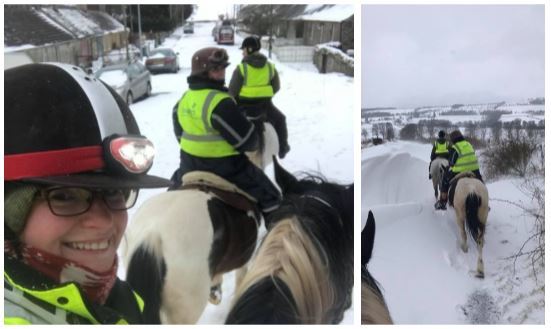 With roads blocked and cars stuck in snow, a group of equine-lovers found another way to make it to the supermarket for milk and bread – on horseback.
Suzie Nicholson, who lives in Charleston, Angus, said her friend Jessie Jean, who runs Saddle Up Ranch on Glamis Estate near Forfar, contacted her last Friday and asked if she wanted to head into the town's supermarket.
"I said your 'car's not going anywhere' and she was like 'we'll come in on horse back'," Suzie said.
After checking on the elderly residents who live nearby to see if there was anything they needed, Suzie, Jessie and their friend Liz Baillie headed off on the five mile trip to the Aldi in Forfar.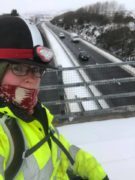 "The horses coped beautifully in the snow, passing along roads that no car would have managed, and because of the snow, the roads which were passable were eerily quiet," Suzie said.
"We took the back roads….and we barely saw a single car the whole way."
"The drifts must have been seven or eight feet high in some places but one the other side it was passable for horses but there was no way to get a car through there."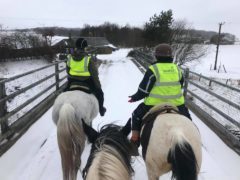 All of Jessie's horses are barefoot and Suzie said that was an advantage as it meant the snow didn't ball up in their feet and they didn't slip on the compact icy sections.
"It was an amazing adventure, a total throw back to a time before cars," she said.
"It gave you an idea of how small the world must have been back then.
"It's five or six miles and it took us two and half hours there and back."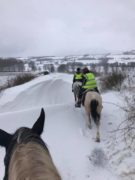 Suzie said both the riders and the horses had a brilliant time, and they also caught the eye of a few people as they rode past.
"We had a few cameras pointed at us when we got to town," she said.
"When Jessie came around in Charleston, we had people coming out of their houses with their kids to see the horses."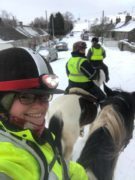 One of the people who was surprised to see the horses was Aldi staff member Maria Jogesäter who said she thought it must have been a bit of a joke when she first saw the trio ride up.
"We had one old lady, she came in on a big tractor and then we had three others coming in on their horses," Maria said.
"At first I thought it was a joke and then I thought that they can't have come to the store just for shopping but they had.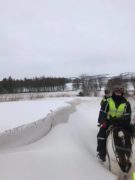 "They came in just for bread and milk and toilet paper."
The store had been fairly quiet due to the Beast from the East but as people ran low on the essentials, they found a way to make it through.
"People are coming in and doing milk shopping for £30 and that's quite a lot, but they're doing it for the neighbours and friends."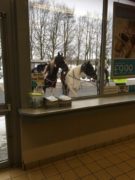 Maria had been unable to get to work last Wednesday because of the snow and said as she had recently bought a pony for her daughter she might take a bit of inspiration from the riders next time she was stuck.
"I told my manager I'm coming in on the horse," she laughed.
"He said 'as long as you're here, I don't mind'.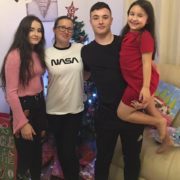 "I think more people should use their horses. There's a lot of people who have horses but they don't use them.
"If we would get this much snow next year we would see many more people coming in on their horses."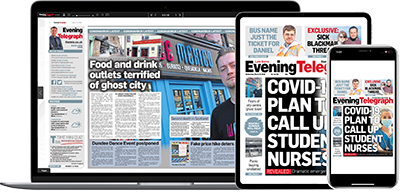 Help support quality local journalism … become a digital subscriber to the Evening Telegraph
For as little as £5.99 a month you can access all of our content, including Premium articles.
Subscribe