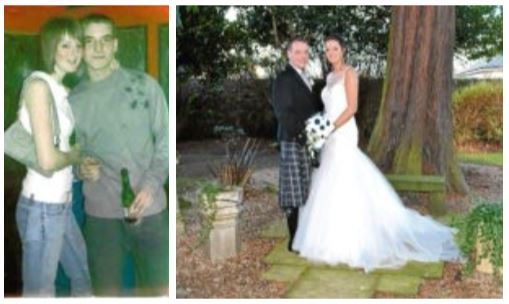 When Jill Fleming travelled to Tenerife more than a decade ago, her thoughts were very much with the mum she'd just lost.
But on that trip, she found her future — she found the man she'd want to spend the rest of her life with.
It's taken a while, but they're now man and wife — and wait till you hear about the proposal.
Jill, 31, from Menzieshill in Dundee, is a learning and care assistant at St Joseph's Primary School.
Tragically, 15 years ago, she lost her mum, Linda. To get away from things for a while and to pay her aunt, Carol Dye, a visit, Jill and her dad, Ian, took a trip to Tenerife.
Carol's son, Scott, was living out there too, and his pal, Barry Saigeon, from Lochee, just happened to be flying out at the same time.
"The first thing I noticed about Barry was his dress sense — especially the bright yellow trainers," said Jill.
"And he was 'different' — so funny, really fun to be around and I kind of needed that."
They were certain they'd never met before, but the more they talked, the more it seemed their paths might have crossed down through the years, at childhood birthday parties and the like.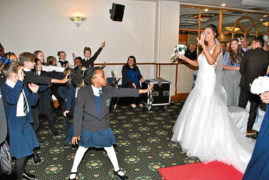 "Our first 'date' was a bungee jump — but he lost his nerve at the last moment and I did it alone," said Jill.
The pair enjoyed their time on the island, but didn't exchange numbers and went their separate ways at the end of the holiday.
"But when I was back in Dundee, I got a call from Barry out of the blue," said Jill. "He'd tracked me down and got my number from Scott.".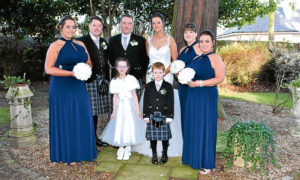 And that was it — they met up and the romance that had sparked in Tenerife was rekindled and they've never looked back.
Eight years ago, Sarah came along and two years later, she was joined by little brother, Liam.
"Barry's a great dad," said Jill. "He's a lad's lad, but also a really kind, caring man and the kids find him hilarious."
Barry, 33, is a printer and, yes, he clearly does have a rather unconventional sense of humour.
"Last year, my dad was diagnosed with cancer," said Jill. "It was a real shock. And then Barry said, 'Well, looks like you could end up an orphan, so best get married so your dad's there to walk you down the aisle, eh?'"
Jill had the wedding booked within 24 hours before Barry could change his mind.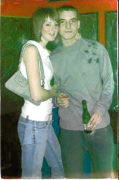 For the record, Ian is fine. He's fighting fit and back at work, but that's Barry for you.
"And funnily enough, Barry said he'd tried to propose to me several times over the years," says Jill.
"He was going to do it when we were back in Tenerife for my thirtieth, but bottled it. And he was going to do it on Sarah's first birthday, but bottled it again."
The wedding took place at the Woodlands — Jill says the staff were amazing — and "everything was perfect". In a really charming touch, the children of St Joseph's Glee Choir sang her down the aisle.
Jill, in a stunning dress by Innate Bridal, of South Road, was given away by her very proud dad, and Barry looked suitably handsome in Black National tartan.
Maid of honour was Jill's big sister, Lynne Cooper, and the best man was Scott, who's not only Barry's best pal, but played a part in getting them together.
At the wedding, Sarah was flower girl and gave a reading that she helped to write, while Liam was deputy best man, but fell asleep during the meal and didn't get to deliver his speech.
There was also an awesome magician, John King, who wowed the guests.
"Everything was perfect," said Jill.
"On the night before the wedding, Lynne and my other bridesmaids, Becky Roy and Jennifer Bruce, kept me company," she added.
"My aunty Kath Bruce was a massive help, too. I couldn't have got through it without her, as she's the next best thing to a mum.
"And for my wedding, my brother and sister, Neil and Lynne, gave me a little pendant that had my mum's handwriting inscribed on it.
"It was amazing to see her actual writing again — such a lovely, thoughtful gift I'll treasure forever."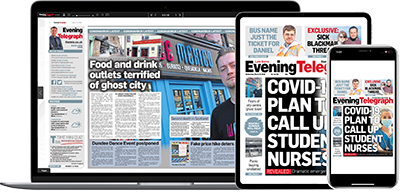 Help support quality local journalism … become a digital subscriber to the Evening Telegraph
For as little as £5.99 a month you can access all of our content, including Premium articles.
Subscribe