A school reunion has raised more than £200 for a classmate taking part in the Kiltwalk in memory of his brother, who passed away from cancer.
Andy McDonald's brother Steven was diagnosed with prostate cancer in April 2017. The cancer spread to his pelvic bone and sadly he lost his battle in Feb 2018.
Andy said Steven had asked him to do the walk with him to raise money for cancer research thinking he still had a few years left after his chemotherapy, but he passed away three days after his last chemo session.
Andy was one of 45 former students who attended the Lawside Class of 79/80 reunion in Dundee over the weekend, where they raised £205 for Andy's walk.
Teresa Cerra, a former student who organised the reunion with Shaun Ovenstone, said it the event was really and went "really well".
REUNION: Former pupils at Dundee school are planning to meet. Will you join them?
"It was like everyone was all friends again and asking how their lives had been," she said.
"It was really nice to get in touch with friends again.
"There was one friend, I hadn't seen her for about 20 years and It was good to be in touch again."
The former students were treated to a buffet before The Admiral function room before heading to the school site for a group photo.
Teresa said the group included people as far away as Newcastle and London.
"Some people made a lot of effort to get there," she said.
"I just hope next time other people can make it.
"Thank you to Tracey for doing the buffet."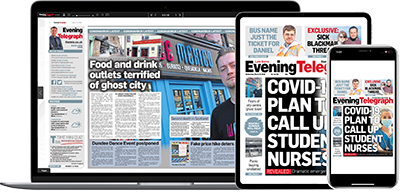 Help support quality local journalism … become a digital subscriber to the Evening Telegraph
Subscribe