The relative of a Dundee man is visiting the city and wants to catch up with members of her family she has never met.
Anita Foster, 43, grew up in New Zealand but her great great grandfather, Charles Christie, is from Dundee.
In 1920 William – one of 12 children – boarded a boat to Australia aged 37 for a new life with his wife Jessie (nee) Burns and their daughter Elizabeth, who was aged seven.
According to Census data he was living at 30 Victoria Street in 1881, 41 Alexander Street in 1891 and 27 North Ellen Street in 1901.
Charles was married to Margaret, who lived at 35 Dundonald Street until she died.
Elizabeth's granddaughter Anita, who now lives in Sydney, is in Dundee between September 9 and 12 to visit the Heart Space yoga studio run by city man Finlay Wilson.
She is also visiting Wales, London and Croatia on her trip.
She said: "I would like to know if any living relatives are in Dundee or surrounding areas."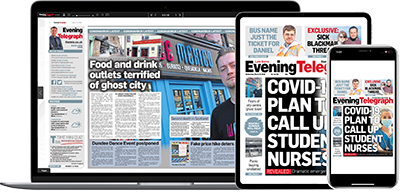 Help support quality local journalism … become a digital subscriber to the Evening Telegraph
Subscribe