Police Scotland Youth Volunteers got in on the action at the opening of the iconic new V&A museum.
The young volunteers from Dundee East and West attended the official opening, allowing them to be a part of history – and they got to see some cracking entertainment too.
Group co-ordinator, Andy Hutton, said: "PSYV Dundee East and West attended at the official opening of the V&A Dundee. They assisted with welcoming guests and ensuring the public had a great time.
"The youth volunteers enjoyed a great fun day and saw local live bands performing including Kyle Falconer, Be Charlotte and Gary Clark. It was a great day for the youngsters to see the best of Dundee's talent.
"At the moment PSYV Dundee East and West are both looking for new volunteers to get involved in the group.
"The volunteers attend events around the area throughout the year and it is a great experience for them," said Andy.
"If you are interested please visit scotland.police.uk/psyv."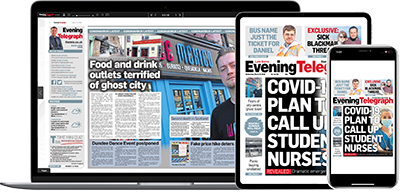 Help support quality local journalism … become a digital subscriber to the Evening Telegraph
Subscribe