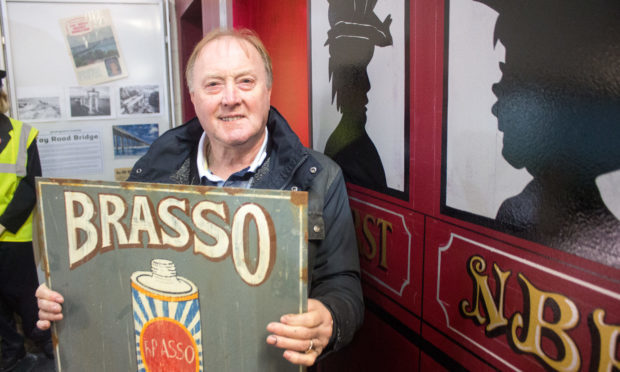 Signwriting has changed a lot since Brian Robertson started doing it.
Instead of painstakingly painting each detail, signs can be made of vinyl and stuck onto wherever they're needed.
But the 67-year-old is still putting his old-school skills to good use, helping the Dundee Museum of Transport create a new display commemorating and explaining the Tay Rail Bridge disaster which killed 75 people in 1879.
He said he first started volunteering at the museum after he retired nearly a year and a half ago.
"My hobby was vintage lorries and I'm a sign-writer by trade, my son runs my business Robertson Signs so I spoke to Jimmy the chairman and started working here," he said.
While he had been involved with the restoration team, his recent focus had been on creating the new display, which resembled a station waiting-room on the inside and a railway carriage on the outside.
"The wee room, we're making that into a waiting room," he said.
"There's a utility seat that'll be going in, there'll be a wood floor and there'll be a coal fire going in."
Part of Brian's work involves a lot of research and there's no detail too small to miss his attention.
"Door-handles had me going for a while," he said.
"I couldn't figure out which way the Victorian door handles were, but eventually I got the door handles on.
"Once you get into that, I enjoy it because you start using your memory.
"You're actually thinking what was it like in them days.
"The women had these big fancy hats, and then the men with the top hats and the children, I've got pictures of them and I'm doing them on the windows of the train just to create a bit of a Victorian atmosphere would be the word."
He had also been creating numerous signs and advertising boards for the room from scratch, before making them look like they'd been picked up straight from the time period they were modelled after.
"It's a technique I've discovered you get your paint and then you get rock salt and you mix it in with your paint and it looks like rust," he said.
Before starting his own bussiness, Brian started out working for Allison's Transport.
"I wanted to be a coach builder and I ended up ended up 18 years with Dundee Busses.
"I worked in Maryfield for about six years and then I left and I started my own business and I've been on my own for 30 years as Robertson's Signs.
"I've done a lot of bigger stuff, I used to do some of the busses.
"There's not much I canne' do.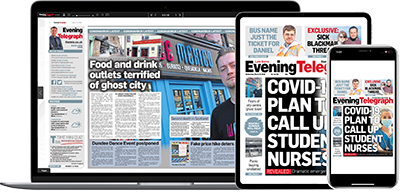 Help support quality local journalism … become a digital subscriber to the Evening Telegraph
Subscribe