The Good Samaritan who helped a gran confused by changes to bus times in Dundee get home says "I'm not a hero".
Thousands of readers saw our online story earlier this week about the plight of gran Dorothy Murray, 74, who was trying to get home from the city centre to Buttar's Loan in Charleston at 7pm on Friday last week when she missed the No 28.
Tribute to Good Samaritan who helped gran confused by new Dundee bus times get home
She was at a bus stop in Whitehall Street and feared she would be stranded in the cold due to confusion over the new timetables.
But the intervention of a Good Samaritan helped her on her way, which led to a message of thanks from Dorothy's grandson.
He can today be revealed as Mid Craigie resident Kian Greene, 17, who was waiting to meet a friend when he came to Dorothy's aid.
Kian, who lives in Pitkerro Road, said: "I had been in town and noticed the lady appeared flustered at and a bit distressed at the bus stop. Due to the recent change of timetable she had missed her 28 bus and did not know how to get home.
"I have a real interest in buses and routes and timetables and I was able to advise her that a number 9 would take her where she needed to go.
"I first calmed her down and re-assured her that I could help her get home. I accompanied her up to the Number 9 bus stop as she was a bit unsure where it was.
"I was aware the route of the number 9 has also changed and explained this to the lady. She then became a bit unsure about getting on this bus and where to get off.
"I offered to get on the bus with her and accompanied her to show her the correct stop. As we got closer to the stop I could see it was getting icy and slippy on the ground, so I offered to get off the bus with her and accompany her to her gate.
"She was very relieved and grateful. I was very happy to see the lady home safe and that she appreciated my help.
"I'm not a hero. All I wanted to do is help someone and make sure they got home safe. I want to thank Dorothy for saying thanks and it made me happy."
Responding to Kian's comments, Darren said: "I'm glad Kian got in touch and my family are grateful for him for helping our gran."
Xplore Dundee has made a series of changes to bus times this month, affecting services including No 9.
Xplore Dundee introduces changes to bus fares and routes across city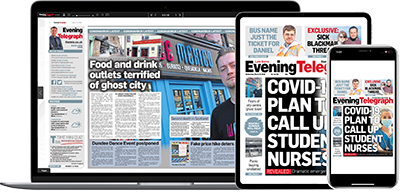 Help support quality local journalism … become a digital subscriber to the Evening Telegraph
For as little as £5.99 a month you can access all of our content, including Premium articles.
Subscribe