When it comes to making your lattes, cappuccinos and espressos, it is not just as simple as the click of a button.
Matt McDevitt, 20, started working in the hospitality industry at just 15-years-old and although he may be young in years the now barista has a wealth of experience.
He moved to the City of Discovery three years ago, after working in restaurants in St Andrews, before finding a role at The Flame Tree Cafe on Exchange Street.
Over the past two and half years Matt has worked hard on his barista skills and says he hopes one day he might even open a cafe of his own.
Matt said: "I have been in the catering industry since I began working.
"I have worked in the kitchen and front of house which has allowed me to gain a good experience of a number of roles.
"When I stared working at the Flame Tree I sort of floated about and did a number of different roles before I pushed to gain a barista-type role.
"I wanted to gain experience and learn everything I could about the industry so that perhaps in the future I can open my own place.
"When working as a barista there is so much more to making coffee than just pushing a button.
"When I start work between 7.30-8am, it can be hectic as you get a breakfast rush.
"But I have to check the grind to ensure it is not too course or too fine, I also have to see the run-time for brewing an espresso.
"There is a lot you need to learn about coffee that people maybe don't realise."
When it comes to the Flame Tree's two premises, one on Exchange Street and the other on Perth Road, there are many familiar faces that Matt has gotten to know over the years.
He added: "I love being able to talk to the regulars and get to know them.
"It is incredibly important in the catering industry to be able to talk to people and also get on with the team you work with.
"We are like a unit and whenever any of our staff members move on it is like losing a pal.
"Maybe when I am about 50 I will move to Spain and open a really gimmicky Scottish cafe, but for now I am pretty chuffed to be working at Flame Tree.
"I really enjoy it and I am constantly learning new things."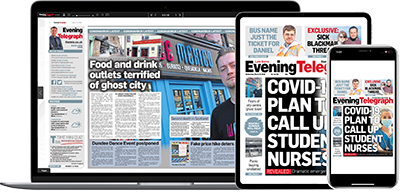 Help support quality local journalism … become a digital subscriber to the Evening Telegraph
For as little as £5.99 a month you can access all of our content, including Premium articles.
Subscribe