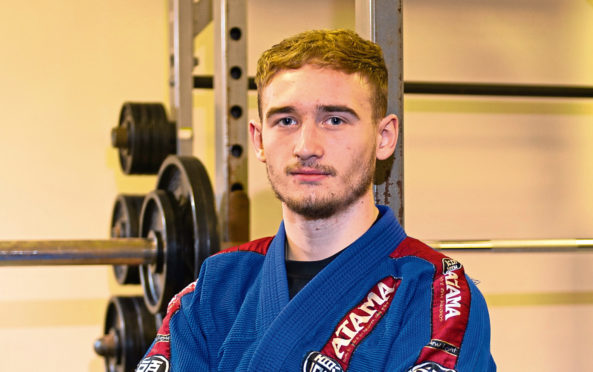 Monifieth fighter Patrick Rowan is aiming to continue his meteoric rise in Brazilian jiu-jitsu (BJJ) this year after ending 2018 with a medal glut.
The 22-year-old, who trains in the martial art discipline out of Dundee MMA (mixed-martial arts) and Origin jiu-jitsu, ended last year with a host of titles in a matter of months.
Despite only taking up the sport at the end of 2017, Rowan has gone from being a complete novice to a champion as he capped his maiden season with gold in the Scottish Cup in October and a further two gold medals at the UKBJJA International Open in December.
However, the white belt athlete revealed it has not always been plain sailing and he went through plenty of tap-outs and humbling defeats before making his breakthrough, including one which started it all.
"I was at a party with my mate and he'd been doing a bit of submission grappling in the Marines and I didn't know that at all," the former Monifieth High pupil said.
"He challenged me to a wee submission match in front of everyone so I said 'yeah, fine' and I wasn't expecting to get choked out twice within seconds.
"It was quite embarrassing at the time because everyone is making fun of you a wee bit but I knew then I needed to learn jiu-jitsu.
"I didn't want to go about being that vulnerable and I knew it was going to be great fun because it's something I'd always been interested in but never actually took the step and started it.
"I've always been a fan of the UFC and MMA in general, from watching it on TV, so I've always wanted to pursue a martial art."
Asked if he thought, he'd be a champion just over a year down the line, he added: "Not at all when I started, for the first six months I was getting tapped out by everyone, constantly.
"I never thought I'd get good but, even though I was getting tapped out and beat, I still really loved it.
"I just stuck at it and, eventually, over time, you see yourself being able to tap the people that were tapping you out before and that all boosts your confidence and you progress.
"I got two silvers at the start of the year and it sort of knocked my confidence in a way because I didn't think I'd ever win a competition but the first one I won was a gold in the Scottish Cup in October, which was a really big confidence-booster."
Rowan, a health, fitness and exercise student at Dundee and Angus College, had to learn the basics of the sport to get to where he is and is hoping training in other disciplines will see him fine tune the art of submission.
He added: "BJJ is similar to judo but there's more of a focus on the ground work. It's a complete martial art and applies a lot to MMA when you see them go to the ground with submissions.
"It's always good to be strong, in anything you do you need a bit of strength but there's more focus on the technique.
"It's more about overcoming strength a lot of the time.
"The way it works you compete against people at your own level but I'm hoping down the line to progress further and challenge myself against even more difficult people.
"There's kickboxing, MMA, judo and I'm wanting to be more complete within martial arts training but really it's just about keeping training every single day because that's the only way you get better."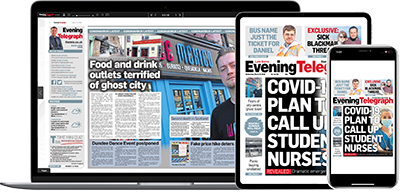 Help support quality local journalism … become a digital subscriber to the Evening Telegraph
Subscribe