The fire at Braeview Academy on Tuesday night was not the first time that a Dundee school has been devastated by fire.
On March 21 2001, a blaze ripped through Morgan Academy (pictured) destroying the 133-year-old building and leaving the school needing a £20 million rebuild.
It was one of Dundee's most devastating fires in living memory and could be seen from across the Tay.
There were windy conditions, similar to Tuesday night, that helped the flames spread quickly, with much of the main school building destroyed within hours.
Just before 8pm, the school's iconic clock tower collapsed despite the best efforts of about 70 firefighters.
By 11pm, fire crews finally managed to bring the blaze under control.
Pupils from the school were housed at the former Rockwell High building while the academy was fully rebuilt.
The refurbished secondary opened three years after the fire at the start of the 2004/5 term.
Remarkably, no one was hurt in the blaze which was caused by blowtorches being used by tradesmen working on the roof space.
According to an investigation report, workmen had been forced to use fire extinguishers twice during the day of the fire.
VIDEO: Scene at Braeview Academy this morning as drone pictures show extent of fire damage at school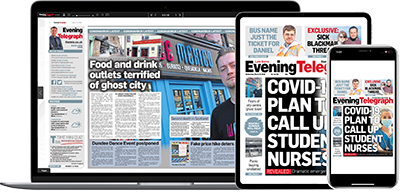 Help support quality local journalism … become a digital subscriber to the Evening Telegraph
Subscribe