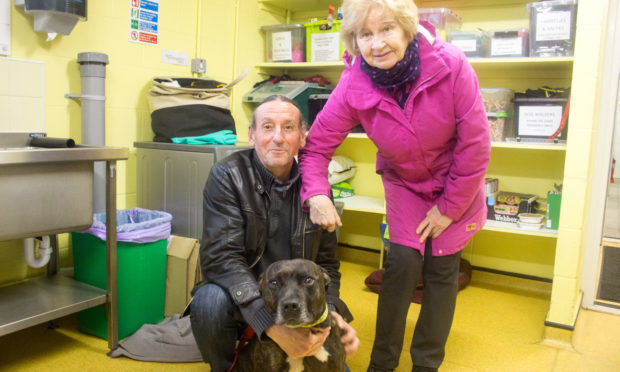 When Val Tait ran her own card and gift shop in Stobswell, she became known as the go-to person to care for stray dogs.
"Domino in Stobswell, just a card and gift shop and people used to bring dogs in, if they found a dog they used to bring it in to me," she said.
The shop may have gone, but Val has continued caring for lost and homeless animals and has spent the last six years volunteering to walk the rescue dogs at  Dundee's Brown Street Kennels.
"I love dogs and I've always had dogs myself," she said.
"I've walked dogs on a Friday morning for six years now.
"I've always had rescue dogs myself and I'm just interested in rescue dogs."
Val now lives out in Liff but doesn't mind making the trip in each week, regardless of the weather.
"I love it, if they don't need me they get someone who lives closer but I get withdrawals if I don't come in.
"You just get wet and you just get dry again, and the dogs have got to go out regardless of the weather.
"Some dogs like it and some dogs don't, my own dog hates it.
"I used to have retrievers but I'm into staffies now.
"I've had a dog all my life.
"If I'd had been clever enough I'd have been a vet but I wasn't clever enough."
Paul Cavangh from Lochee has also been helping out at the kennels for three years.
Unable to find work, he said he decided to use his time to volunteer instead and followed his love of dogs.
"I've not got one myself so it gives me a chance to come down here and see lots of dogs rather than just one," he said.
"I like the dogs, it's mainly for that and it's good for me as well.
"It's great when someone comes and takes your dog that's been there for ages because you can get some dogs that are here for a while."
Paul and Val were now trying to find a home for Tyson, who was doing his second stint in the kennels.
"I would have this dog Tyson in a minute but it wouldn't work," Val said.
Abril Boyd, senior animal care at the Kennels, said they really appreciated the volunteers like Val coming in to walk the dogs.
"They're very dedicated and they do come in all weather to walk the dogs so it gives the dogs a break from their kennels and they look forward to seeing the volunteers in the morning.
"We do get a lot of people volunteering to be dog walkers but we do have a two year waiting list at the moment."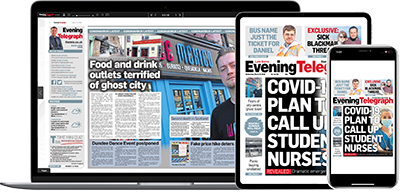 Help support quality local journalism … become a digital subscriber to the Evening Telegraph
Subscribe