The Dundee woman who saved her husband's life by performing CPR has thanked the three crews from the Scottish Ambulance Service who were sent to help.
Carrie Henehan found Mike McNally, a health care assistant at Perth Royal Infirmary, collapsed and without a heartbeat in the couple's Dundee home last month.
The Scottish Ambulance Service (SAS) said Carrie called their west control centre at 7:01pm on May 17.
"The call handler guided Carrie through the CPR procedure, while Aimee Hogg, based at Edinburgh's ACC control centre, dispatched three crews; the first, Michelle Bond manning a paramedic response unit, arrived at 1906 hours," the SAS said, only five minutes after Carrie called.
"The next crew of Thomas Fleck and Toby Tee, operating an ambulance, arrived at 1907 hours.
"A third crew, an urgent tier vehicle which included Paul Shepherd, was also dispatched to assist with extrication."
Carrie has since praised the SAS staff for their help saving Mike's life and Thomas, who joined the ambulance service in 1978, said it was great to receive praise.
He added: "It's nice to hear from people who are grateful. It makes your job worthwhile and it's great when the outcome is good. The more people who learn CPR, the better."
Following five days in intensive care, Mike returned home, with Carrie adding: "The care Mike has had from start to finish has been fantastic; the person who took the call, the ambulance crew, the doctors and the nurses – everyone has been great, every single person. The support for me as well has been fantastic. My message to anyone is to go out and learn CPR."
Carrie explained she has never been trained at CPR, but she knew she had to act and said "adrenaline and instinct over took over".
She added: "The person on the phone was really calm and talked me through it, telling me what was happening before the ambulance team arrived.
"Everyone is saying it is a miracle, and I just want people to know that there is always something that you can do.
"I just hope after all of this it will encourage more people to learn CPR. That is what saved Mike and in these situations it's absolutely crucial to keep someone's blood flowing while they're unconscious.
"I would just urge everyone to learn it and become familiar with it because you never know.
"The only thing I want to come out of this is to raise awareness of CPR. I'm trying to get family and friends to learn something.
"Heartstart has lots of courses for people to attend."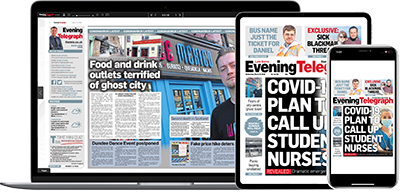 Help support quality local journalism … become a digital subscriber to the Evening Telegraph
Subscribe