For more than 50 years, Maureen McLaren has been a familiar face in Marks & Spencers.
It was 1967 when she first picked up a job working in the store in her home town of Kirkcaldy before a promotion 10 years later led to her being transferred to Dundee where she has worked ever since.
"I was a sales assistant in Kirkcaldy , just working at 15 years old, but I got the opportunity to come up here and be the manager of a department 10 years later, at 25 years old," she said.
Maureen described the store as a family, and in more ways than one.
"I've got my husband who works here full time, he's been here about 20 years now," she said.
"We have two daughters, they were both at university here and they worked in here.
"So at one point there was the four of us in here working."
Five decades is a long time to spend at one company, and there were a couple of times when Maureen thought of resigning including when she was pregnant and thought she wouldn't be able to continue working full time and caring for her daughter at the same time.
"The manager at that time said 'you can't leave, how are we going to manage without you'," Maureen said.
"So she created a job to the effect that 'when you come back, this job will be there for you' which was like 12 hours instead of the 39, 37-and-a-half that I was doing."
It was that culture in the company and the people who worked there that had kept her going the whole time.
"It's like a family, it's been very family orientated as far as you can keep it going that way, as long as you've got that state of mind about change and how you deal with the changes, that's what keeps you motivated in a place like this," she said.
"I think it's just the spirit they have in the company, right from the top.
"They don't look at themselves as being above you, you know, 'I'll tell you what to do', they're just there to learn from you and things like that.
"I think it's an atmosphere thing."
She had worked in almost every department in the store, including years in the school wear section, and there were now mothers coming in who Maureen recognised from when they used to come in with their mothers.
"They'll say 'I'm in to buy for my daughter, do you remember me coming in with my mum'," she said.
Outside of the job that has been a big part of her life, Maureen, who lives near Lochee Park, said she didn't have too many hobbies but enjoyed catching up with her daughters for lunch or having a coffee with friends.
"I don't do an awful lot," she said.
"I like reading, I like sitting with my feet up and reading books.
"I'd probably don't have a favourite but I'm kind of the romance type books and a little bit of drama, maybe a murder so I've got a mixture."
Her milestone of 50 years was marked with a large staff celebration in the store, before her and her husband was treated to a first-class train ride to London at the company's expense, along with Carol Carey and Ann Grieg, who had spent 40 years and 25 years with the company.
"It was fabulous, they made you feel so special," she said.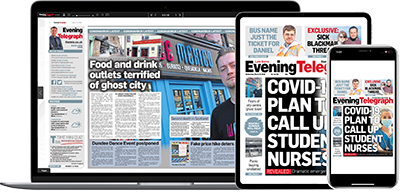 Help support quality local journalism … become a digital subscriber to the Evening Telegraph
Subscribe