She was known as a woman loved by everyone and even after she passed away, Margaret Mair's life has continued to touch others.
The 75-year-old, who lived in Dundee her whole life, spent five weeks in Roxburghe House earlier this year after she was diagnosed with cancer.
After another six weeks at home, she passed away on April 30.
A collection at her funeral raised £217 for Roxburghe House and on Thursday her daughter Jenny Muir and son Charlie Muir handed over the cheque.
They said the care she had received during her time there had been second to none.
"The care was just 100 per cent, so caring," Jenny said.
"They couldn't do enough for her, it was brilliant."
Charlie said there had been one time when a mix-up at the hospital meant she was transferred to the Home late and night, and he said the staff had all stayed to welcome her in.
"When she come back they were all up waiting for her with open arms to say 'welcome back'," he said.
"It was absolutely fantastic."
That care continued right up to the day she left to go home.
Mum-of-four Margaret back in her childhood Dundee home as she fights cancer
"All the nurses, even from all the other parts came to see her. The ones that were just finishing shift and the ones that just knew about her because she was quite well known, she was so welcoming from the cleaners to staff nurses to the doctors, she treated them all the same," Jenny said.
Staff nurse Jeni Graham, who looked after Margaret and accepted the cheque along with  health care assistant Nina Allen and staff nurse Louise Burnett, said Margaret had been full of fun.
"It was just wonderful to look after her," she said.
"We really appreciate any donations.
"Any funds that come into the hospital go towards improving patient comfort."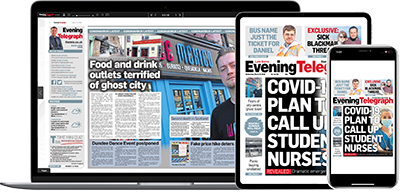 Help support quality local journalism … become a digital subscriber to the Evening Telegraph
Subscribe