The courageous and dignified way her mum, Pat, dealt with pancreatic cancer has left a lasting effect on Perth woman Mandy Flynn-Scott.
Pat died six years ago aged just 56 but there isn't a minute goes by that Mandy doesn't think about her.
And Pat was very much in Mandy's thoughts as she "braved the shave" in front of colleagues and customers at the Crieff Road branch of Tesco in the Fair City.
Customer assistant Mandy, 43, had her long locks shorn by Catriona Revill of H@ir4You with the £650 raised going to Macmillan Cancer Support.
It didn't take Catriona long to get the job done with Mandy's colleagues and customers being extremely supportive as she said goodbye to her hair which was down past her shoulders.
Having raised money for Macmillan before by twice running the Race 4 Life, Mandy decided on a different fundraiser – and her decision to have her head shaved has won her many admirers.
She said: "Everyone has been positive and so nice. Folk have told me it has made them think about giving money to cancer charities.
"It was an ambition to have my head shaved and my hair has gone to the Little Princess Trust, a charity which makes wigs for young people up to the age of 24 who have lost their hair due to cancer."
Pat was more than just a mum to Mandy – she was a real pal to her daughter who often sought her out for support.
Mandy said: "My mum was wife to my dad Phil and a mum to myself and my brothers Richard, Ian and Kevin.
"Throughout her 56 years she suffered from various illnesses but faced up to them with great fortitude.
"She had cancer once before and beat it and she fought it again when it came back.
"She was a fighter all right and didn't let the cancer get her down.
"Mum was firm but fair and she instilled a great spirit in her kids.
"She was a passionate person who cared about people.
"I had many happy times with her.
"When I was down she would pick me up.
"She would say 'Come on, let's get on the train' and away we would go for the day, sometimes Edinburgh, sometimes Glasgow, sometimes Inverness.
"She spent time with me, got me sorted out and put a smile back on my face. I have fond memories of those away days.
"Mum was one of the best. I couldn't have asked for more from her.
"She was a giving person and she gave me lots of love."
Mandy intends to keep on fundraising but hasn't made her mind up about what to do next.
"I will always help charities with time and money," she said.
"It is so important to give to organisations which can help folk and Macmillan is one of those which provides great help and support."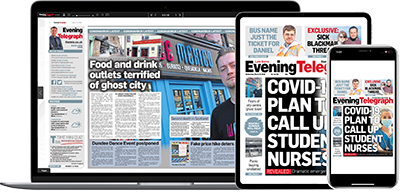 Help support quality local journalism … become a digital subscriber to the Evening Telegraph
For as little as £5.99 a month you can access all of our content, including Premium articles.
Subscribe