Gate-crashing a works Christmas party led to the marriage of the new Mr and Mrs Gowans.
The pair both work in Ninewells Hospital, with Kim, 31, a secretary and Mark, 38, a building supervisor.
It was Mark's departmental party at the former Castle Street pub Dexters in 2009 and, after catching wind of the festivities, Kim and her pals decided to go along too.
From then on, Kim and Mark became inseparable, with Mark asking her out on Boxing Day a few weeks later.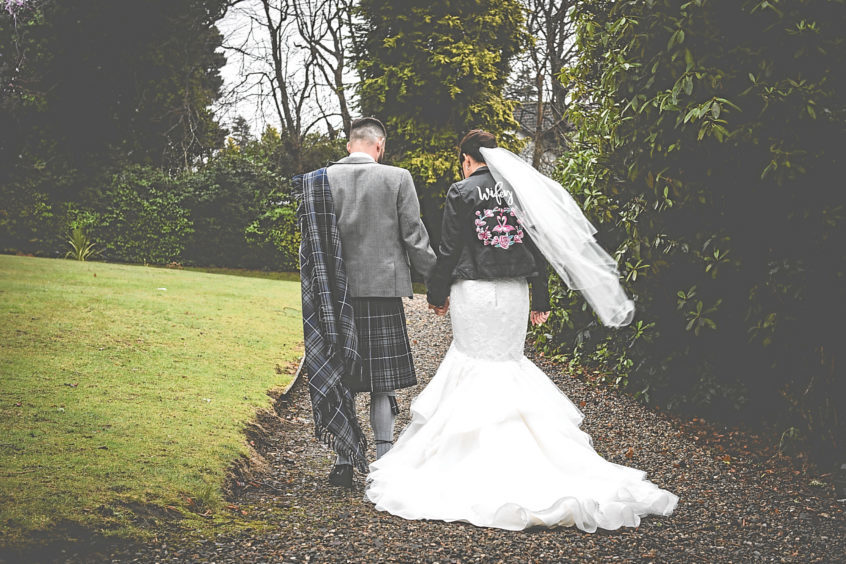 "After that first night out when we met, that was us together almost every day," Kim said.
After seven years together and the birth of son Blake, now 6, Mark finally popped the question on Kim's 30th birthday in 2016.
Mark said: "I didn't tell anyone I was going to do it. I wanted it to be kept as a surprise."
On the morning of the proposal he simply pulled the ring out at their home and asked Kim to marry him.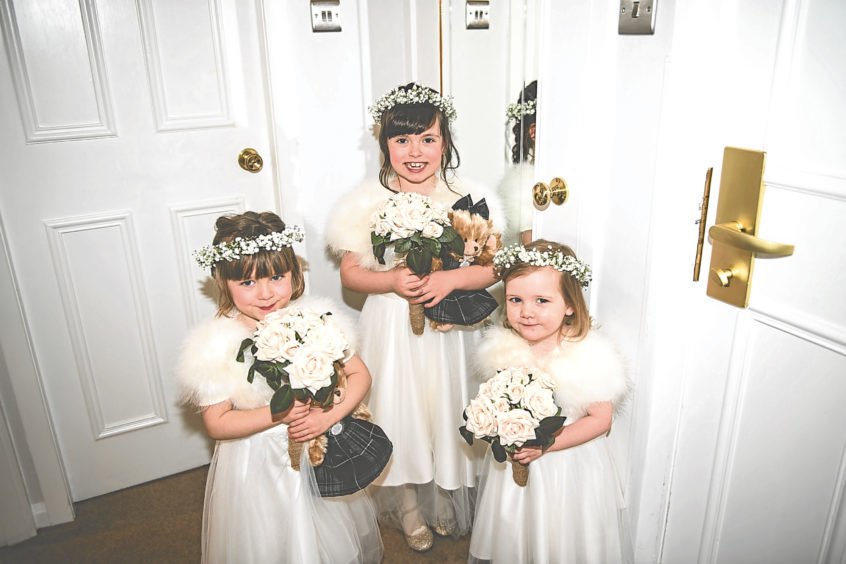 "It was simple, there were no grand gestures. It just happened, which suited me," said Kim.
They announced the happy news at her birthday party that evening.
The big day arrived on March 30 at Invercarse Hotel. However, some unexpected snow hit too.
"We were supposed to be getting our pictures taken in the Botanic Gardens but when I got to the bottom of the aisle you could just see the snow coming down," said Kim.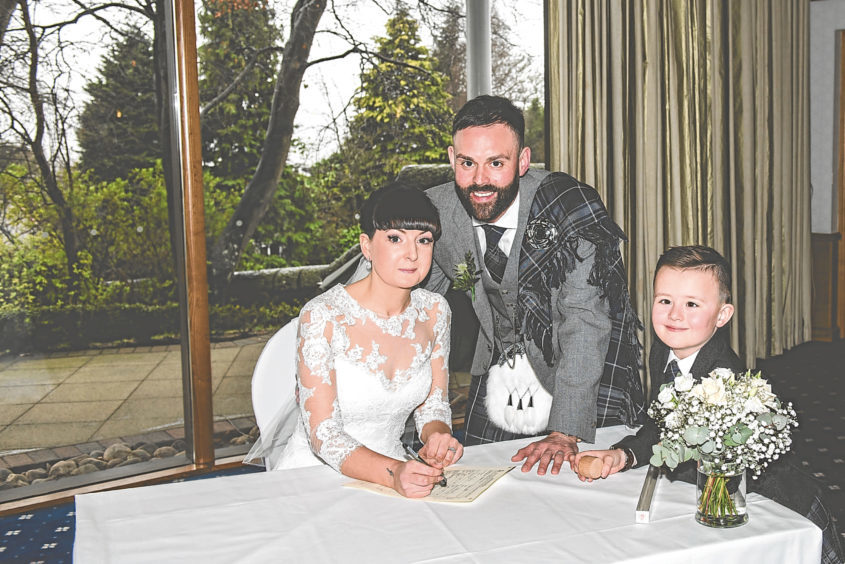 "My specially-made jacket came in very handy.
"I had ordered it from a girl online who designed it for me. I have always loved flamingos so they had to be incorporated."
Kim was joined by bridesmaids Stacey Duncan and Joanne Davidson while Mark was supported by best man Stephen Pilling, who travelled from Ireland for the occasion, as well as ushers Callum Duncan and Adam Duncan.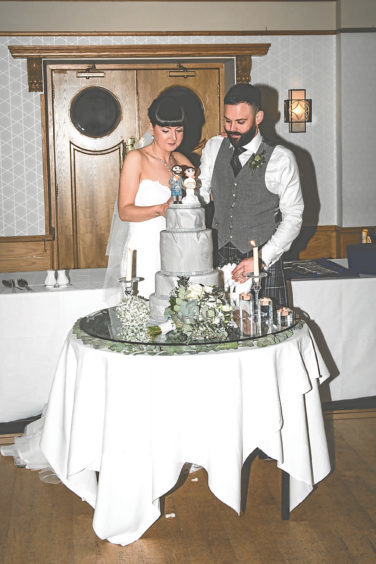 Son Blake, an Ancrum Road Primary pupil, had a special job on the day too — delivering the rings to his mum and dad.
Kim said: "It was really important for Blake to be involved in the day, especially since he is old enough to understand. After our vows we lit three candles and the middle one was a candle from his christening."
Alongside the newlyweds' first dance to Michael Buble's Everything, Kim and her dad Adam Duncan had a special father-daughter dance too.
Kim said: "We danced to Eric Clapton's Wonderful Tonight. It was really nice and there were a lot of tears. To be honest, I cried the whole day until we had said our vows."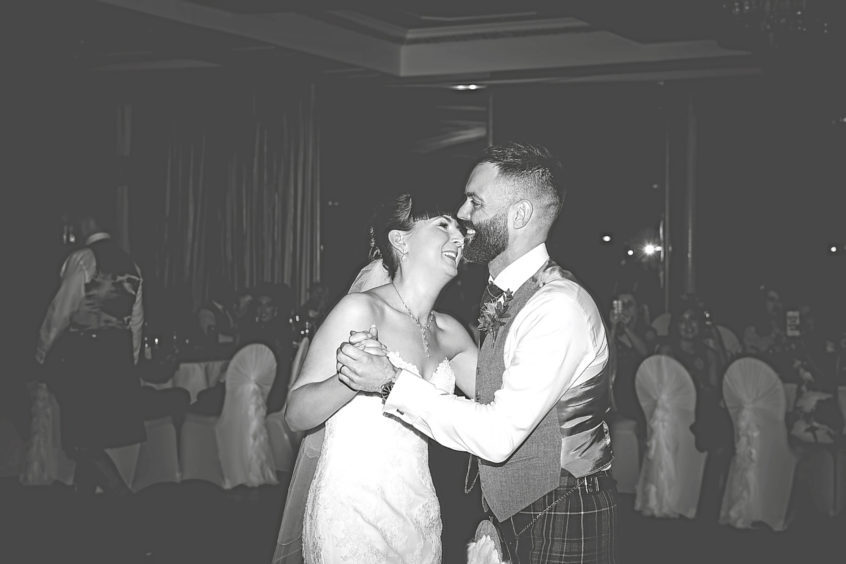 With Blake having stolen the dancefloor, showing off his break-dancing skills, the couple said that the night was "lively" and a "good party". They sent a big thanks to everyone there who made the day fantastic.
Kim and Mark added: "We would like to say a massive thank you to KFerrie Wedding Photographers for our stunning pictures, Steve for the wedding DVD, Paula Campbell for the gorgeous cake and Cakes That Landed for the cake topper.
"Also to Kim Kelly for hair, Jillian Elizabeth for make-up and Side by Side who played some amazing music during the wedding meal.
"We were up all night dancing — it was just such an amazing day."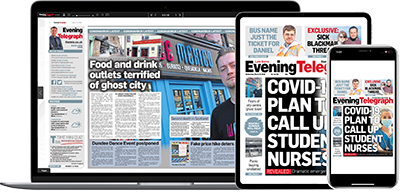 Help support quality local journalism … become a digital subscriber to the Evening Telegraph
For as little as £5.99 a month you can access all of our content, including Premium articles.
Subscribe