Dundee Elite Freestyle Kickboxing Fight School enjoyed a week of growth and medal success competing at the World Championships in Ireland.
Five members of the club were over in Dublin all last week as part of the Scotland squad to take part in the WKC World Kickboxing Championships.
Coach Sean Wanless – who also was in the ring – as well as his son Riley, Derren Currie, Lennon McGregor and Thomas Armstrong were all in action – the first time many had fought on such a stage.
McGregor and Armstrong picked up valuable experience and there were finals and medals for others.
Derren Currie, 10, was part of a young Scotland U/10 team which won silver in the light contact event, losing out to Canada in the final on Thursday.
Father-son duo Sean, 36, and Riley, 9, were also in individual finals yesterday. Sean was crowned World Champion in the -75kg men's continuous and won bronze in the over 35s.
While Riley grabbed a silver and a bronze in the -25kg 10-year-olds points and continuous events.
The fight squad at Dundee Elite had been training hard for months leading up to the tournament and Sean feels all their hard work has, ultimately, paid off and been rewarded.
"Derren fought his heart out to take home a silver, what an achievement," he said.
"The whole of Team Scotland have been warriors.
"Each and every fighter from Dundee Elite fought their hearts out. I couldn't ask for any more than that – I'm a proud coach.
"Unfortunately, they (McGregor and Armstrong) didn't get the win in their second category.
"However, it's all an experience of a lifetime and they will have learned so much."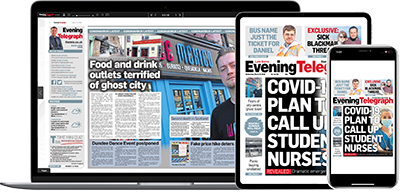 Help support quality local journalism … become a digital subscriber to the Evening Telegraph
Subscribe