They say getting married is joining two families together — and that couldn't be more true for the new Mr and Mrs Kendall.
Emma, 35, and Kenny, 37, both from Forfar, first met when they started working at the same dental surgery in 2010 but it took three years before their first date.
Kenny said it only happened due to Emma "being pushy" — and she didn't deny the claim!
Kenny popped the question in front of the couple's families during dinner at their home on Christmas Day 2016.
Emma said: "It was so emotional — it meant so much that all of our family was there.
"Kenny proposed using his gran's wedding ring which fitted perfectly.
"She died the year before so it was all very emotional."
The wedding itself was held at Atholl Palace on March 10.
Emma's son Hamish, 9, had previously picked the date unaware of how perfect it was.
Kenny said: "Before Hamish chose the date, we had picked a theme of SuperMario because we both love the game.
"When we were making the invitations we realised the date read Mar10. It was a perfect coincidence."
Emma also has a younger son Innes, 6, and after she and Kenny tied the knot, the bride produced a statutory declaration giving the whole family the same surname.
She added: "Kenny has been in their lives from a very young age and they both call him dad.
"It was very emotional when I was giving my speech. There was not a dry eye in the place."
The bride and groom would like to thank Kenny's brother Iain who was best man, bridesmaids Jamie Craig-Gentles, Pam Watt-Stewart, Stacey Hendry, Jackie Swankie and Niki Kendall-Wilson and their ushers, as well as Downfield Studio photographer Sandra Ewing and cake maker Kokoro Cakes.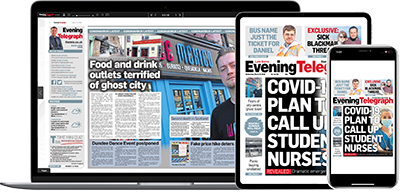 Help support quality local journalism … become a digital subscriber to the Evening Telegraph
For as little as £5.99 a month you can access all of our content, including Premium articles.
Subscribe