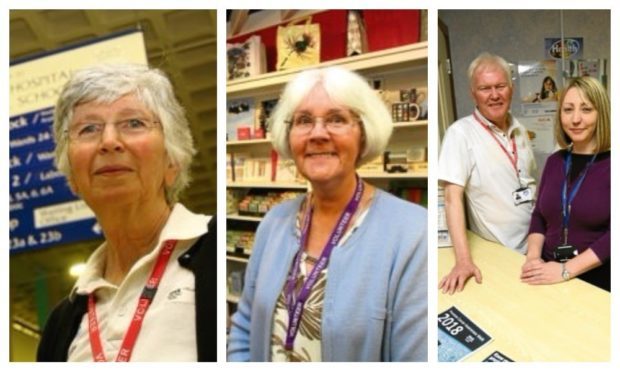 YOU may know the NHS employs 14,000 people to provide care in Tayside — but did you know it also has an army of volunteers?
The health service has 858 volunteers, including 369 in Dundee, ranging from 16-80 years old, who provide extra help to complement the work of medical staff.
About 160 helpers give up a few hours of their time in Ninewells Hospital each week, with 15-20 providing small, but vital, services every day.
They include Pat Mole, who began volunteering on the Ninewells Welcome Desk in 2008.
Pat, from the West End, worked in Dundee Royal Infirmary, Maryfield Hospital and latterly Ninewells before hanging up her uniform. But she liked it so much she came back.
As a Welcome Desk helper, she eases in tentative hospital visitors with a smile, and can show people where they need to go in what can be a very intimidating complex.
Pointing to the entrance that leads into the hospital, she told the Tele: "Coming through that door can be very overwhelming, with a lot of signs and very small print in front of you when you come in.
"It's much easier for people if you have a friendly face to greet you, and show you where you're meant to go.
"Reception can be very busy and the staff there can't leave their seats, but we can. People do say 'thank you' — and you appreciate that."
Some volunteers also help out on wards, keeping patients company and fetching them teas and coffees.
These might be little gestures, but they can mean the world to someone undergoing long-term care.
Molly Gunn, a volunteer for six years, helps people on the Welcome Desk and in Ward 32, which treats patients with tumours.
She said: "It's quite different from volunteering somewhere like a charity shop — but it is very worthwhile.
"It was hard at first on Ward 32 but I learned to overcome that. The simplest things are appreciated by people on the wards — and it's rewarding to me as well."
Elsewhere, visitors to Ninewells' gift shop are also served by volunteers, who are easily spotted by their distinctive lanyards.
Camperdown resident Jean Mitchell has served folk with a smile in the gift shop for two years, but has volunteered for six. The retired children and family services worker, 65, said she was inspired to help by other volunteers who would keep her mum company at a Parkinson's clinic in Victoria Hospital.
Jean said: "We get regulars in the store who are visiting relatives in hospital. It's nice for them to have friendly faces they can speak to. I want to volunteer as long as I'm able."
Further down the concourse, Jim Gorman, 61, directs visitors towards help, advice and other services at Ninewells' one-stop health shop.
It features dozens of leaflets on all kinds of health conditions, but also helps with other day-to-day services such as replacing batteries in hearing aids.
Jim, who recently retired from the Department for Work and Pensions after 40 years, says he wanted to give back to the community in his role at the health shop and the hospital's eye clinic. The Menzieshill man said: "I've always worked with people and I wanted to keep doing that. There can be a lot of waiting around so I spend a lot of time just talking to people who are sitting on their own.
"It might be small but you feel like you're doing something helpful."
NHS Tayside volunteers are managed by seven voluntary service managers, including acute services manager Valerie Ewan. Valerie said: "The volunteers do so much to complement the work of our staff and we want to say thank you to all of them for what they do. New volunteers are always welcome."
If you are interested in volunteering with NHS Tayside, visit its website at nhstayside.scot.nhs.uk/GettingInvolved.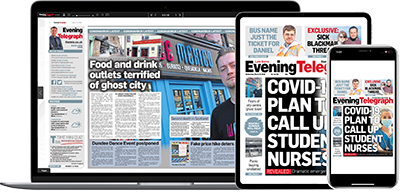 Help support quality local journalism … become a digital subscriber to the Evening Telegraph
Subscribe