Most women wouldn't be too pleased if their men left them to go and play in a football match just hours after they had given birth.
However, new Perth mum Jade Matthew, 23, didn't mind when her man, Sean Ferrie, 28, left her and their newborn baby boy, Austin, to play for the team he captains.
Letham Amateurs were in the Perth and District Cup Final against Letham Community Club.
And it turned into a double celebration when his side won in a massive 7-0 defeat. Sean was named Man of the Match to complete a great day.
Austin was born mid-morning and Jade knew how important the game was as she herself is a keen footballer.
Jade is a striker with Letham Ladies and is keen to get back on the field as soon as possible.
Jade said: "I wasn't bothered about Sean leaving me and the baby to go and captain Letham in the game.
"Football means a lot to both of us so Austin will grow up in a football family.
"It was actually at Letham FC that Sean and I met."
It's been a terrific season for Sean.
He has led Letham not only to the Perth and District Cup but to Perthshire Amateurs First Division success.
And he has also represented the Scotland Amateurs team twice.
To top it all off he now has a beautiful baby son.
Jade added: "Austin came in at a healthy 8lb 5oz.
"So he looks like he's going to be a strong lad – and, hopefully, a Letham player."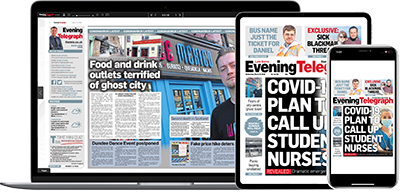 Help support quality local journalism … become a digital subscriber to the Evening Telegraph
For as little as £5.99 a month you can access all of our content, including Premium articles.
Subscribe