With a passion for complementary therapies, Melanie Wright Bell is now sharing her talents as one of the top reflexology tutors in the UK.
Having started her health and wellbeing career in 1992, Melanie's business The Complementary Therapy School is the first and only private training provider in Britain that is able to offer university credit-rated reflexology and massage qualifications.
Melanie, who is based between Carnoustie and Surrey, said: "I founded The Complementary Therapy School in 2006 to offer professional courses and promote a high standard of therapies to the public.
"Apart from osteopathy and chiropractice, you can call yourself a therapist with very little or indeed no training.
"The industry is not very well regulated and there are some training providers that have set up their own membership association and have accredited their own courses."
Melanie added: "Clients deserve to have an optimum experience. Training at the highest level makes our graduates stand out and excel as therapists.
"In 2012, I developed complementary therapy qualifications, which are credit-rated by Edinburgh Napier University."
It was during her personal training career that Melanie was introduced to reflexology by a colleague and she has never looked back.
She added: "While working as a fitness trainer a member of staff gave me reflexology and I was hooked.
"I have now been a qualified massage therapist for 23 years and a reflexologist for 21 years. I have set up and managed many complementary therapy practices in large companies and also offered treatments to the community.
"I have also studied biomedical science at university and over the years I have witnessed the remarkable effects of complementary therapies.
"My job has given me the opportunity to meet and get to know fascinating people from all walks of life. I am blessed that I provide treatments to people ranging from those with regular jobs to film stars.
"I can't imagine being involved in any line of work that is not related to health and wellbeing.
"At the moment, I am studying to be a hypnotherapist. I think it is important to update your knowledge. We are always learning."
Melanie is a true inspiration

Melanie's hard work at The Complementary Therapy School hasn't gone unnoticed and she was recently presented with the prestigious Association of Reflexologists' Inspirational Tutor Award for the second time.
She said: "I am very pleased and honoured to be the only reflexology tutor to win the Inspirational Tutor Award in the UK more than once.
"This award is UK-based and is granted by students nominating and giving feedback directly to the Association of Reflexologists.
"As I said in my acceptance speech, my thanks goes to my students.
"If it was not for them, I would not be receiving this award.
"I love sharing my passion of complementary therapies with other people."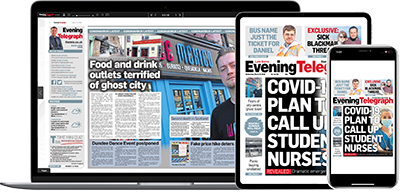 Help support quality local journalism … become a digital subscriber to the Evening Telegraph
Subscribe