If all the tablet Dundee woman Fiona Edwards has made for charity was stacked in a pile, it would dwarf the UK's largest building.
Fiona has been selling her homemade treats since 2003, raising more than £75,000 in that time.
If each 15mm bar sold had been stacked in a pile, it would tower over London's Shard (310 metres) and Ben Nevis (1,345 metres) at a staggering 2,076 metres tall.
Last year her sales raised £7,400, which Fiona has donated to the Clinical Research Centre at Ninewells for its breast cancer research programme.
She said: "I would like to thank everyone who supports me by buying my tablet or by giving me spare cash.
"They have made this possible and their continued support means we have been able to give to breast cancer research year after year."
Professor Andrew Evans thanked Fiona for her efforts, adding: "We simply could not do the work we do without money raised through charity."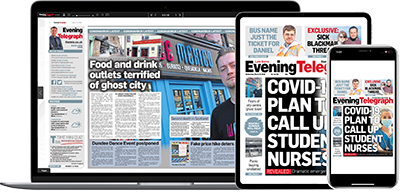 Help support quality local journalism … become a digital subscriber to the Evening Telegraph
For as little as £5.99 a month you can access all of our content, including Premium articles.
Subscribe