A PhD student's interest in the women behind Dundee's computer industry has led to a multi-faceted performance exploring their impact on the city.
It was around a year ago when Mona Bozdog first started digging into the archives and talking to Charlie Malone to find out more about the women who had worked at the TIMEX factory, which closed down in 1993 after more than eight months of strikes. All this documentation will culminate in an event on Friday called Generation ZX(X).
Mona, who is originally from Romania, said those strikes seem to overshadow all the other memories and stories from the factory.
"Everybody has their own TIMEX story," she said, "And you'll find that everyone's stories are very, very different."
She originally studied journalism back in Romania, but decided to change after two years and started working on Community Arts projects in Rahova, Bucharest.
"That's when I found what I really wanted to do, writing stories" she said.
She moved to Scotland and graduated from an MLitt in Playwriting and Dramaturgy at Glasgow University in 2013.
It was in 2015 that she moved to Dundee to take up an Applied Research Collaborative Studentship PhD with Abertay University, the Royal Conservatoire of Scotland and the National Theatre of Scotland, researching the connections between video games and immersive, site-specific performance.
After creating a project last year where participants explored Inchcolm island in a promenade performance inspired by the game Dear Esther by the Chinese Room, Mona moved on to creating the Generation ZX(X) event, which will feature hours of interviews with 11 female former factory workers, geo-tagged around the city's Camperdown Park.
Starting at Camperdown House, participants will walk around the park using a mobile phone app to listen to clips at specific locations, marked with colour-coded balloons.
"I didn't want to write another TIMEX story because there are already a lot of TIMEX stories, so I really wanted for these stories to come through," Mona said.
She also wanted to explore why the video-game industry had really taken off in the city.
"When I moved here I found it really weird that Dundee has such a massive and vital video games community" she said.
"Dundee and video games seemed so synonymous. It seemed a bit random which is why I started on this story.
Mona said it had been an amazing passion for her over the past 12 months, but added that a lot of hard work had gone into the project which is part of this year's NEoN Digital Arts Festival and is funded by NEoN Digital Arts Festival, Creative Scotland, Weave by Abertay, and Abertay University.
"It's been really really hard tracking down people after all this time" she said.
"What I'm really hoping is for people to come together and share stories, celebrate these amazing women and their labour which gave us those first computers which started the home computing creative revolution in Britain"
Generation ZX(X) takes place on May 4 at Camperdown Park. The event is free but ticketed, with tickets available here.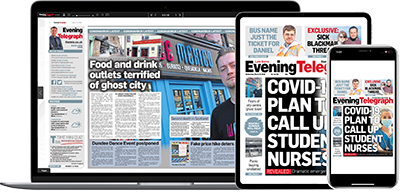 Help support quality local journalism … become a digital subscriber to the Evening Telegraph
Subscribe