A University of Dundee student whose parents were both struck with multiple sclerosis (MS) during her childhood will undertake a 23-mile Kiltwalk this month in an effort to ease the burden for others affected by the illness.
Third year geography student Claire Boyle, will take on the Royal Bank of Scotland Kiltwalk in memory of her mother, Margaret Theresa Kane, who unexpectedly passed away in 2016.
Claire will join more than a thousand other KiltWalkers, including her sister Louise Boyle and friend Jen MacPhail, as she raises money for the MS Society.
She said, "Growing up with my mum being diagnosed with primary progressive MS and later, my father diagnosed with relapsing remitting MS, the illness has been a massive part of my life.
"I can barely begin to explain the impact MS can have on the lives of the individuals, families and friends involved. What is important is that developments are being made, but more progress and awareness is necessary if we can begin to help others.
"It's hard to imagine what life would have been like if MS hadn't appeared. Despite the wonderful happy life my Mum had, it would have been incredible to take that burden away. I hope that with this fundraising, I can help remove some of the hardship on other people's lives who are affected by MS."
Claire and her team have already walked 60km each in training for the event on Sunday 29 April.
The Royal Bank of Scotland Kiltwalk allows participants to fundraise for any charity of their choice and underwrites their total amount raised by 40 percent, thanks to the help of Sir Tom Hunter and The Hunter Foundation.
Claire said, "Getting closer to the walk we are getting very excited but a bit nervous about lasting the whole day, the sponsorship people have been giving us is really motivating us in our training.
"We walked for five hours one day last week which was quite a challenge but great fun to do together so hope the walk is similar. We have probably walked around 100km each but are hoping to up this over this weekend with an overnight trip to the Cairngorms."
Those interested in donating and following Claire's Kiltwalk can do so here: https://glasgowkiltwalk2018.everydayhero.com/uk/ElyobC2018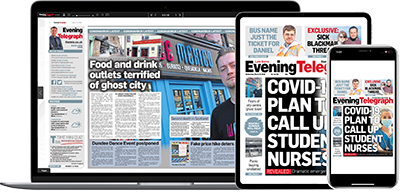 Help support quality local journalism … become a digital subscriber to the Evening Telegraph
Subscribe