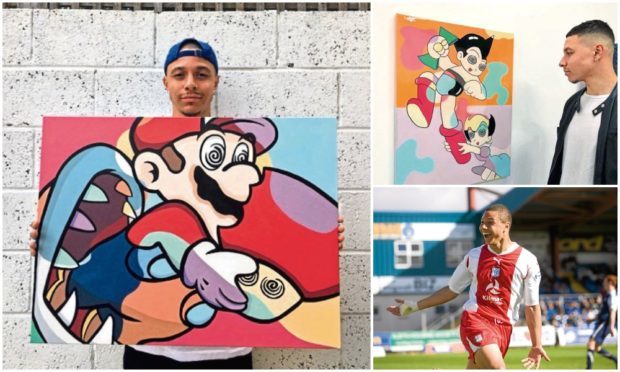 Former Dundee FC player Leighton McIntosh is about to demonstrate his skill in a completely different field.
The 25-year-old footballer has turned avid artist and will be showcasing his colourful work at his first exhibition on Friday under his designer name, Geckor Design.
The striker currently plays for Scottish League One side Airdrie, but he grew up in Douglas and Downfield before making his debut for Dundee in 2010.
Leighton said that growing up as an only child, he gained most of his creativity from watching cartoons.
Now he bases his work on the much-loved characters that he enjoyed as a youngster.
Leighton said: "I have been into art since my school days.
"Art was always my favourite subject and I would go home and create art by myself as well.
"It is a passion that has never really died and now I am really excited that I can create my art alongside football.
"When I was growing up I was really into cartoons. I am quite a positive, happy person too so the work really suits my personality."
When it comes to combining art and football, Leighton admitted that the two are not the most obvious pairing.
"It is a strange one doing both painting and football but they are my two favourite things and I am very lucky that I get to do both," he said.
"I think if you had asked my team-mates before they wouldn't have expected me to be into art but they are now all incredibly supportive."
He added: "I hope it shows younger people that even if you are into something that doesn't quite fit that 'football style' you can still go out and do exactly what you want to with your life.
"I am really looking forward to the exhibition and I am hoping it's a really fun vibe."
In conjunction with Firegarden Art Media, the Dundonian will be presenting his cartoon-inspired artwork in the men's clothes shop Cartocon, which is based on the Nethergate, on Friday from 6pm.
The exhibition will be in the shop until September 14.
Firegarden's creative director Derek Welch, who organised the exhibition, said Leighton is "incredibly talented".
He added: "Leighton has such an interesting journey from footballer to a self-taught painter.
"He is a very talented boy and it has been great working with him on this event.
"Leighton has such an interest in creating the cartoons that he grew up watching.
"His art appeals to an audience that watched the same cartoons such as SpongeBob SquarePants.
"He creates his canvas work using acrylic paints and he also produces digital artwork which is then printed on to canvas.
"I was first introduced to him by a friend at Duncan of Jordanstone College and he has done so well to fit in creating all the artwork while training with his team and playing matches.
"We can't wait for the event to see the work he has been creating."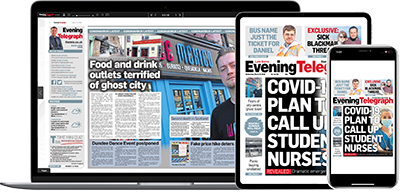 Help support quality local journalism … become a digital subscriber to the Evening Telegraph
For as little as £5.99 a month you can access all of our content, including Premium articles.
Subscribe