Seven students from Braeview Academy have been crowned the regional winners of the 'Powering Transformation' competition, which saw 5,000 students across the country vie to come up with innovative, solution-based technological designs aimed at overcoming local social issues.
Back in April, students from five Dundee schools– Braeview Academy, Baldragon Academy, St Paul's RC Academy, Harris Academy and Morgan Academy – took part in the Powering Transformation workshop at the University of Dundee, developed by the Transformation Trust and supported by Dell EMC.
The workshop – which is completely free for schools – was aimed at raising aspirations, supporting engagement with higher education and encouraging responsible use of technology.
The programme provides students with what is likely their first insight into higher education, while demonstrating the potential for technology to overcome social issues.
Key throughout the programme is the notion that young people themselves can be real drivers of social change.
Winning teams from each school were chosen each day, and then placed into the regional finals.
The all-female team from Braeview came up with the idea of a robot to combat vandalism, stating that "vandalism in our area is terrible, so we decided to create a robot that would combat this issue and make the area a nicer and safer place to live".
Following their win on the day, the team from Braeview was placed into the regional draw for the North East of England & Scotland, alongside another 22 schools from Dundee, Lincolnshire, Yorkshire, and County Durham.
Fighting off heavy competition from the other schools in the regional draw, Amy Stewart, Lucy Jobson, Mia Allan, Zoe Simpson, Chloe Weldon, Katelyn Ritchie and Alisha Rae were delighted to each win a £50 voucher to spend on the technology of their choice, and said of their win: "We were really pleased to find out that we won, it was such a good day and it confirmed to us that we want to go to the University of Dundee to study".
The Transformation Trust is a national education charity dedicated to opening the doors of opportunity to students throughout the country, providing a range of enrichment opportunities to the most disadvantaged schools in the country, to maximise students' academic attainment and professional aspirations.
Cate Smith, Programme Manager at the Transformation Trust, said, "We believe that social or economic background should in no way be a determinant of a child's future, and we're committed to levelling the playing field of opportunity.
"We were delighted to work with the University of Dundee for this program, and we're extremely proud of all the S1 and S2 Dundee students who took part in the workshops."
Katie Gallacher, Principal Teacher of Computing at Braeview Academy, said, "This was an excellent opportunity for our pupils to get involved in, working with professionals from Transformation Trust, Dell EMC & The University of Dundee allowed our pupils to gain insight into the key role that technology plays in our everyday lives and the courses and jobs that are available to them in this sector.
"The workshop embraced collaboration, creativeness and building our pupils' confidence to get up and present their ideas.  It was a great day and we are looking forward to taking part again. "
Dr. John Blicharski, Access & Participation Manager at the University of Dundee and lead for the host institution, said: "We were delighted to support the Transformation Trust working in Scotland for the first time.
"Warmest congratulations to the Braeview team and their bright futures. Profound thanks to the Trust".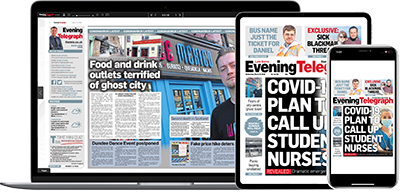 Help support quality local journalism … become a digital subscriber to the Evening Telegraph
For as little as £5.99 a month you can access all of our content, including Premium articles.
Subscribe