From keeping their whole stock at the foot of a bed to 700 square feet of storage, Huffman's has grown at a staggering rate.
The drink distributors are based in Dundee and specialise in premium Scottish drinks for both the on- and off-trade nationwide.
The company was created by school pals Gregor Maclean and Ramone Robertson in 2016 and their first sale was finalised in June that year.
Director, Ramone, said: "We started with just seven companies on board, which is tiny on the grand scale of things.
"This wasn't through choice we just had no money to take on anymore.
"I think that worked in our favour though as we got to know our suppliers and we feel an integral part of our company is to work closely with the suppliers and our customers, which we have continued to do as the business has grown.
"We were nominated for the Scottish Gin Awards Growth Business of the Year – which is crazy when you think it all started off with an order of five boxes and our whole stock was at the bottom of my bed."
The pair also hope that in 2019 they can go even further.
Ramone added: "In the past year we have added 216 products and we have also released our very own gin.
"January, February and March are really important months for us as it is when people are looking to change what they have to offer so everything is going hand in hand.
"We never want to be complacent with what we have and we are constantly thinking of new ideas and pushing our marketing.
"We always want to be innovative but also keep to our core values of the close relationship with our suppliers and customers and also our transparency."
The jump to creating your own business and being self employed is daunting however 29-year-old Ramone wishes he had done it sooner.
"In hindsight I feel I should have got my finger out sooner.
"I have always aspired to work for myself and I feel like as soon as you are working for yourself you are much more focused.
"To be able to put that focus on something is so rewarding.
"It is a scary decision but you have got to just take that chance. Nothing ventured then nothing gained."
'Striving for bigger and better'
After trying almost 300 gins from around the world Gregor and Ramone knew what they were looking for in a gin, so decided to create their own.
Crag and Tail was developed and finally released in September with Ramone seeing it as "setting them apart from the rest".
"We wanted that exclusivity and something no one else had so what better way than creating our own brand," he added.
"Crag and Tail is getting really popular and with so many gins on the market it is a nice tool to have.
"This year we want to put even more work into Crag and Tail to develop its own brand as just now it is just a bottle, and we are also looking to produce another gin too.
"We are always striving for something bigger and better."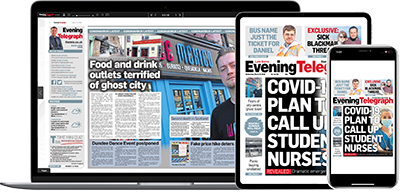 Help support quality local journalism … become a digital subscriber to the Evening Telegraph
Subscribe