She may have been blind, but Dundee music teacher Miss Budge didn't let that hold her back.
A former student, Neil Sinclair, said he had fond memories of Miss Budge when she was his teacher at Balerno Primary school in Douglas, Dundee.
"The amazing thing about her was she was blind, her disability never held her back," he said.
"I used to be her guide if we went to concerts, I.e at the Caird Hall.
"I tried to contact her a few years back through Tayside House but due to the data protection act, unfortunately I could not.
He said she was one of the nicest people he ever met.
"I hope she is still alive and well and maybe if so through this could meet her again, as I was only 10 or 12 at the time around early 1970s," he said.
"She coached me for the Leng medal.
"I'm sure many will remember her if mentioned.
He also remembered Hugh McMichael, his PE teacher at Craig High School, as a true gentleman.
"It wouldn't be right not to mention him," he said.
"God bless, sadly he has passed away.
"I had The pleasure of meeting up with him and his wife through work in the early 1980s,
"He was hard as nails but installed great discipline, and through his values, had a great influence on me, having being orphaned at the age of five, had some great stories about his rugby days."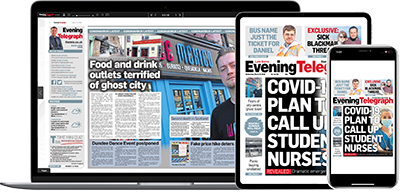 Help support quality local journalism … become a digital subscriber to the Evening Telegraph
Subscribe