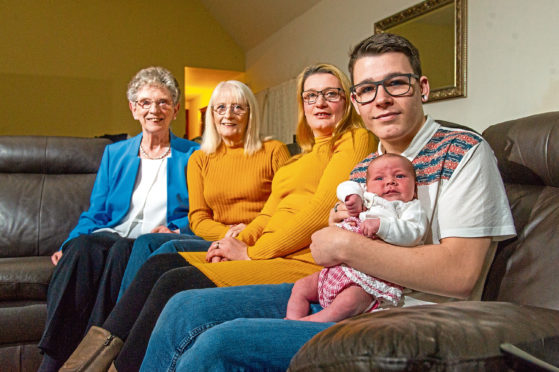 A Dundee family is celebrating after a new arrival created five generations.
Ronan Hunt, 20, and partner Deborah Maclean, 19, welcomed baby daughter Riley into the world on January 13, weighing in at 8lb 4oz.
The arrival made Sheila King a great-great-grandmother for the first time.
Sheila, who was born and raised in Stobswell, was the youngest of 10 siblings so she is used to having a big family.
However, she never expected her own to become quite as big as it has.
Sheila and her late husband Derek had four children – two daughters and two sons – but now her brood has grown with 13 grandchildren, 15 great-grandchildren and now one gorgeous great-great- granddaughter.
Sheila, a retired day centre manager, said: "I had a very long and happy marriage with my husband Derek, who died 21 years ago.
"He was a very caring man and I have had a very happy life.
"Although I was one of 10 it was still unexpected that I have such a big family now.
"Riley is only three weeks old so she is still a tiny baby, but she is absolutely lovely and so beautiful.
"She is my first great-great-grandchild so I am obviously delighted.
"Riley's parents live in Glasgow so I won't get to see them all the time, just when they are visiting Ronan's mum or when I go through there."
Ronan said being a first-time dad is "amazing but life-changing".
"To have five generations in my family is still overwhelming," he said.
"It makes me very happy.
"It didn't feel strange seeing my great-gran with my daughter as she has lived a healthy life and I didn't doubt for one minute that she would see her.
"It is amazing."
First-time great-gran Maureen Ritchie, from Whitfield, said: "I am only 61 but having a great-grandchild has made me feel old.
"She is great though, absolutely fantastic.
"I keep forgetting that she is my great-grandchild, not just my granddaughter.
"Riley's gran Pauline had 10 children herself so having lots of children must run in the family. It must have missed me though as I only had three.
"I am very proud of Ronan – he is a super dad and I am so happy for both of them.
"It seems like two minutes ago that he was that age – time just goes so quickly.
"It is incredible that we now have five generations in our family. Riley is absolutely great."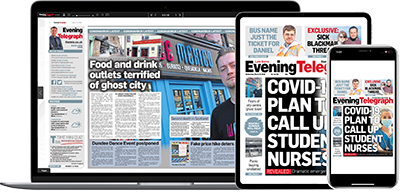 Help support quality local journalism … become a digital subscriber to the Evening Telegraph
For as little as £5.99 a month you can access all of our content, including Premium articles.
Subscribe