Katrina Lindsay is now back in the British Virgin Islands after a festive break at home in Perth.
And the former Oakbank Primary and Perth High pupil is hoping for a less eventful time on the Caribbean islands than she has experienced in the last year or so.
Katrina, 30, works as a lawyer for Carey Olsen and her idyllic lifestyle came to a shuddering halt in September 2017 when Hurricane Irma devastated the region.
She was evacuated to Puerto Rico but was then moved to the Cayman Islands when Hurricane Maria hit Puerto Rico.
Katrina spent time last year on the clean-up operation in the Virgin Islands but reported that "things are now back to normal and, hopefully, they will stay that way".
She added: "When Hurricane Irma hit it was pretty terrifying.
"I didn't know if my house roof was going to stay on but, thankfully, it did.
"I got back when it was safe to return but there was a lot of damage.
"I spent time last year doing manual work such as picking up debris and even bits of houses.
"I cleaned down walls too. I've never seen anything like it – the devastation was awful.
"My running coach Dag Samuels was among those killed so it was a tragedy that also hit me personally.
"Some work still has to be done to get things back to normal but the place is getting there and people are returning. "The islanders are very resilient and, just last month, a half marathon was held.
"I was a member of Strathtay Harriers when I lived in Perth but am now with the Fast Lane Track Club in the Virgin Islands.
"I run a variety of distances from 800 metres upwards.
"I went to the Virgin Islands in August 2016 and am settled there.
"Prior to that I worked in Jersey.
"Having time back in Perth with family and friends was great but now I am looking forward to another year in the idyllic Caribbean, hopefully one that will be disaster free."
n HURRICANE Irma caused death and catastrophic damage, particularly in the north-eastern Caribbean and Florida Keys. It was the most intense hurricane to strike the US since Katrina in 2005 and the first major hurricane to make landfall in Florida since Wilma the same year.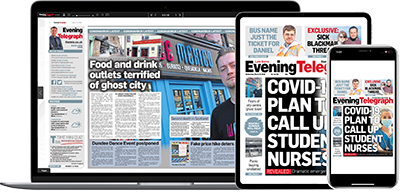 Help support quality local journalism … become a digital subscriber to the Evening Telegraph
Subscribe