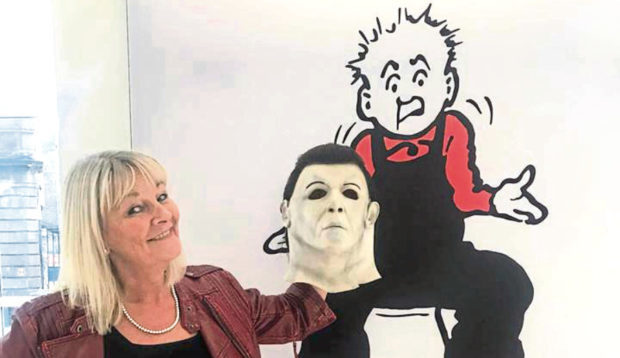 Castle Horror is Scotland's biggest and longest-running horror entertainment company and it ensures revellers around the country have a spook-tacular time throughout the year.
The lady behind it, Carrol Douglas-Welsh, has had a passion for Halloween for years and is a woman with an indomitable spirit.
Carrol, from Downfield, said: "Our family have always loved horror and Halloween. Each Halloween we would host massive parties at our home for about 50 of our friends and family, with each of them eagerly anticipating the event and their customised invitations.
"In 2012 my husband Keith died very suddenly from mesothelioma, the cancer linked to asbestos. He was diagnosed on June 18 and passed away on June 22.
"It was a massive shock to the whole family but we were determined not to let his death be in vain and decided to take our love of horror and use it to raise funds for research into understanding, treating and ultimately beating mesothelioma through Halloween parties. Castle Horror was created a year later.
"Keith loved horror and Halloween and used to make loads of large and unique props for me.
"He would be so chuffed with the company, although he would not be happy that I now have two coffins and a hearse in my repertoire of horror props.
"I couldn't imagine not having Castle Horror now and know he would be so touched that we turned something so negative into something so positive and built it into a viable and successful company."
Carrol added: "We are a company that has grown from charity Halloween parties to immersive, interactive zombie events and much more – anything related to horror or custom events, we can do.
"There is definitely now much more demand for horror. A lot of companies ask us to come to their events and will have our Horrormobile and a few of our zombies at the Dundee University Students' Association event this Halloween.
"There are about 60 people involved with Castle Horror, from all walks of life and across all age groups.
"They include zombies, our own team of SFX make-up artists, a media team and Zort soldiers who Police Scotland are happy to give special permission to carry their airsoft guns during events to add authenticity.
"We are one big family and we all do it for the thrill of the scare."
Click here for more information on asbestos and mesothelioma.
'Just like the Addams family'
Although everyone at Castle Horror initially becomes involved on a voluntary basis, Carrol always ensures they are well looked after.
She said "We work very closely with Viperstrike Airsoft in Dundee who are the feeder organisation for our Zort team and hold an annual Z'Oscars ceremony at Mains Castle, Dundee, where our fantastic team and their achievements are recognised and celebrated.
"All in all it is great fun and that's why we have so many people who are regularly involved and passionate about it.
"Just like the Addams family, we are creepy and kooky but also very much loved by our customers and clients alike, and for that I am, and always will be, extremely grateful."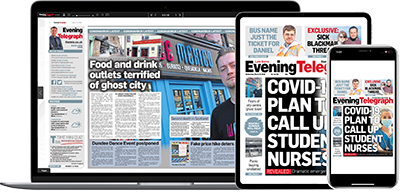 Help support quality local journalism … become a digital subscriber to the Evening Telegraph
For as little as £5.99 a month you can access all of our content, including Premium articles.
Subscribe