A band are hoping to solve the mystery of a cine film being used to promote a track from their forthcoming album.
The 8mm film featuring Dundee and the Tay Road Bridge in 1966, Craigtoun Park near St Andrews and Southend-on-Sea, has been re-edited to fit the melancholy track Grow from the new Spare Snare album Sounds which is due for release on Chute Records in July.
Spare Snare lead singer Jan Burnett said the band were trying to find out if anyone recognises anyone in the film — particularly the end scene featuring a family party. They believe the whole thing was filmed by a Dundee family.
Jan said: "The film and track is a little teaser for our new album recorded by Steve Albini. The film was found by Spare Snare's Adam Lockhart and re-edited."
Founded in the early 1990s, lo-fi outfit Spare Snare — featuring Jan Burnett (vocals, guitar, electronics, melodica),  Alan Cormack (bass, guitar, drums, synths), Barry Gibson (drums, bass, guitar), Graeme Ogston (guitar, bass, ukulele) and Adam Lockhart (guitar, synths, bass, voice) — have released 12 albums to date, mostly on their own Chute Records.
Anyone with information about the cine film is asked to get in touch via wearethesnare.com.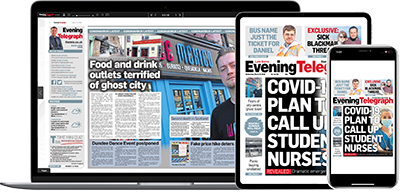 Help support quality local journalism … become a digital subscriber to the Evening Telegraph
For as little as £5.99 a month you can access all of our content, including Premium articles.
Subscribe