A young artist is using his talent to fund the trip of a lifetime to take part in community work in Asia.
Caelan Smith, 16, is organising a silent auction at which he will sell his collection of amazing artwork to raise money towards his trip to Borneo next year.
The Harris Academy pupil's passion for art started when he was just 10 but it wasn't until he was in his third year at high school that art teacher Katriona Murray convinced him that he could take his ability to another level.
Caelan said: "I had never had that push before but Mrs Murray really believed that I could do well in art.
"I don't have a particular style that I limit myself to but a lot of my work is black and white ink. I love trying new styles though."
After creating a number of pieces and being flooded with requests for commissions, Caelan decided it would be a good idea to auction his work to raise money for his World Challenge trip.
Working in the island community in Borneo will not be the first time Caelan has helped out those in need since he often volunteers at groups around his local area of Ardler.
He added: "I have always been interested in helping people and travelling so I am really looking forward to my trip.
"I do a lot of volunteer work already with Better:Gen, a small organisation which works with elderly people who are trying to get fit.
"I have also done other fundraising for my trip including washing cars and a bungee jump at Killiecrankie which raised more than £1,000. I also did Christmas present-wrapping last year."
After spending hours perfecting the pictures to be sold, Caelan admitted that some will be hard to let go.
"I think my favourite piece has to be my portrait of David Attenborough," he said.
"He is obviously massively linked with nature and nature is linked to Borneo so I think it is quite symbolic.
"It will be a sad piece to let go. It took more than 12 hours to complete so I am hoping I will get enough money for it to make it all feel worthwhile."
Caelan's silent auction will be held at the Botanic Garden Visitor Centre on September 30 from 11am.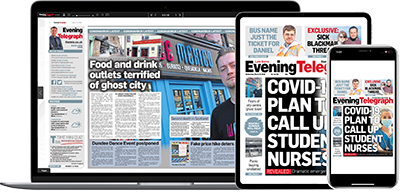 Help support quality local journalism … become a digital subscriber to the Evening Telegraph
For as little as £5.99 a month you can access all of our content, including Premium articles.
Subscribe