In less than a year Kash Piechocki bought her own shop and developed a beauty business which is now thriving.
On November 20 last year Kash bought a beauty salon – Dizzys – which would go on to become a tribute to her mum.
When I asked when her career in beauty began, the surprising answer was, November 20 last year.
Kash explained: "I sadly lost my mum and she had left money for me.
"I had always been in to art and she was always telling me to go and do something creative but I never listened to her and had just worked in admin roles for various businesses.
"When the premises at Whitehall Crescent came up for sale I just thought, I am going to use this money to make my own business and that is what I have done."
Kash undertook an eyelash course in December and from then she has built up a strong clientele and her own team of self employed beauticians who offer everything from lash extensions to nails and brow treatments.
They also offer a range of facials with a new Dermaplaning treatment on offer.
But this shop isn't like most other beauty salons. Kash prides herself on doing things a bit differently.
She added: "We are dead open, dead real and we don't follow suit.
"I hated going into beauty salons as I thought I was being judged for not being just like them. I never wanted anyone to feel like that coming into my shop.
"I say we aren't a beauty salon, we are a beauty shop – just like a barber shop vibe.
"The competition in this industry is crazy but we have clients coming from far and wide including Fife and Blairgowrie, so we must be doing something right."
Eyelashes and brows aren't the only things Kash hopes to offer in the future, she is also halfway through her tattoo apprenticeship and is looking to offer her skills when it is complete.
She also sells her art in the shop and does commissions for tattoo artwork.
Although Kash admits it is a 24/7 job running your own business she says anyone wanting to follow a similar path should "just do it".
She added: "If you want something go for it, but do your research first.
"I am so happy with Dizzys and know my mum would be so proud of it too."
Facial uses scalpel to 'shave' skin
The hottest new treatment at Dizzys is a Dermaplaning facial carried out by Erin Abbott.
The facial uses a sterile surgical scalpel to shave the surface of the skin to reduce excess dead skin and peach fuzz hairs.
The tool is held at a 45-degree angle and is brushed along the skin to remove the hair and skin cells leaving your skin baby soft.
I tried it out myself and wow, what a difference it has made.
The procedure was pain free and a face mask after gave me 15 minutes of relaxing bliss.
The treatment promises to make your make up sit flawlessly and I can't wait to put a full face on to see the difference.
Erin said: "All of our clients have had glowing feedback and it is great giving them the confidence of new skin."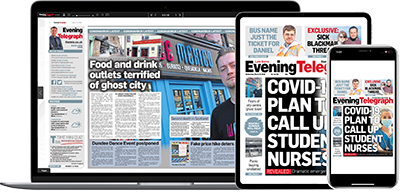 Help support quality local journalism … become a digital subscriber to the Evening Telegraph
For as little as £5.99 a month you can access all of our content, including Premium articles.
Subscribe