Volunteers from around Tayside have had a busy yet exciting few months.
Police Scotland Youth Volunteers (PSYV) have played their part at a number of local events in recent months and met a few famous faces along the way.
At the Kiltwalk in August, volunteers from Dundee East and West were on hand to cheer on the walkers and provide them with refreshments.
The groups also helped at Relay for Life, attending in the early morning on both days to help set up the track and had the privilege of participating in the first lap with the survivors and teams.
The young people were also given the chance to get involved with some of the biggest celebrations Dundee has had in recent times when they attended and assisted at Dundee's first Pride event and even met First Minister Nicola Sturgeon at the opening of the V&A.
PSYV is much more than just helping out at events though. Members of the group have also started their second term of No Knives Better Lives workshops.
Last year the young people delivered the talks on knife safety to every S1 and S2 pupil in Dundee. This year's workshops have seen pupils at St Paul's Academy and Morgan Academy receive the lessons.
Through that PSYV Jade Heron received a highly commended award at the recent Scottish Women's Development Forum Awards.
Jade received her award in the category for leadership as she was recognised for her pivotal role in the design and delivery of the mentoring training and workshops.
Sammy Keith, community development officer for PSYV, said: "It has been such a busy few months for the youth volunteers but they have taken it in their stride. They have been professional, polite and always ready to help when they can.
"Watching them flourish and grow in confidence is such a rewarding part of my role.
"Their individual and collective achievements are incredible for such a small and relatively new youth organisation.
"I am extremely proud of everything they have achieved, the relationships they have formed and the amazing team of volunteers they have become.
"They are ambassadors for young people and an absolute joy to work with."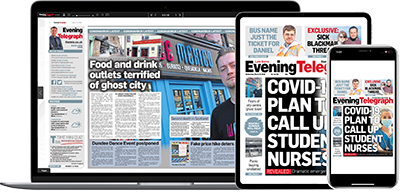 Help support quality local journalism … become a digital subscriber to the Evening Telegraph
Subscribe